I've been having a bit of a life crisis recently. No, no, everybody's happy and healthy and all that, but I feel...like I'm not accomplishing enough in the way of knitting. Remember my whiny blogiversary post of a few days ago? That's what I'm talking about.
But today, I feel better. May I present The Hats?
Five wool hats, all cozied up into themselves, to give to the Yarn Harlot, or her designated recipient, when she comes to WEBS to promote her newest book. She's collecting hats for the homeless as part of her book tour.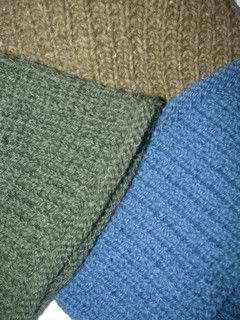 Admire how the different yarns give very different effects when knit in the same pattern, on the same size needles. From bottom left, we have Elann's Sierra Aran, Christopher Sheep Farm's bulky 3-ply, and Candide's good old heavy worsted weight, in a beautiful blueberry-ish color. All from my stash, mind you.
Note that these hats are finished close to two months before the Harlot event! I am feeling exceedingly virtuous. [The virtuousity has yet to carry over into doing my taxes or getting around to planting the sunflower seeds indoors, however.]
Let me think.......I believe I cast on for the first of these hats on March 19th or 20th, and I finished the last one last night (I even knit on the blue one at staff meeting yesterday!) - that's five hats in about 15 days. Not bad, not bad at all.
So, I think I will turn my newly monogamous and disciplined self to finishing up those stripy socks in time to wear them to meet the Harlot. And if I'm really obsessive [me, obsessed? naaah...], I could finish up my handspun shawl, too. You remember, the one I made a little boo-boo on the night the Pats lost? The one I haven't touched since?
How about the Celtic Dreams sweater, too? No, the Harlot's coming to WEBS on May 30th, and despite the godawful sleet/hail/freezing rain crap we're getting as I type, late May will be too warm for a heavy cabled sweater like that.
Maybe instead Norah Gaughan's Lacy Waves Top from the new Lace Style! The yarn's in my stash (as of two weeks ago, ahem) and it's mostly just simple stockinette, with fancy sleeves and a jot of lace around the neckline - even the color of Hempathy I have will go beautifully with the handspun shawl. Easy! Of course, I can get that done, too! Meant to be! In fact, I bet I could make one of Annie Modesitt's wired lace hats to wear with the socks, shawl, and top, too! And a knit skirt, of course - a linen knit skirt, even! Wouldn't that be something?
Nothing more, of course, I don't want to go overboard or anything.