It's been a while. I've been working like crazy, weeding like crazy, and cranky in between. I missed going to Cummington, to see the Harlot at WEBS, and to various other knitting extravaganzas. Harrumph....

But I've been knitting. And spinning, even.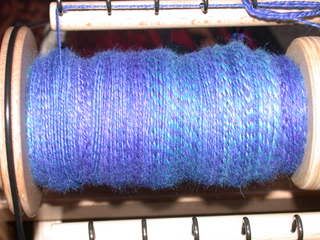 That's BFL from Cloverleaf Farms. I started spinning this back in the winter, and only just finished up the 12 ounces of singles. This bobbin is the first of the final two-ply. I suspect I'm over-plying, but I'm aiming to overply a little, because usually I underply way too much. Making this yarn is reminding me how much I love spinning.
I love spinning so much that, when I go to the Maine Fiber Frolic next weekend with Sue, I'm dropping off four fleeces to be processed. Two of them are white; when the roving comes back, I think I'll play with dyeing.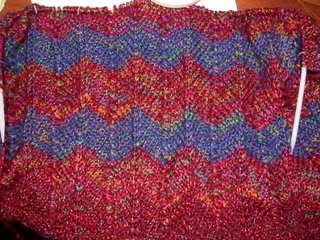 As you may remember, everyone's getting married/having babies/turning 50 this summer, in my vicinity. This is the beginnings of an afghan, a wedding present for Dave and Shelley, out of S. Charles Baci, a merino/viscose blend. I bought this yarn from Webs a while ago, thinking I would knit my parents an afghan, since the red and blue would go nicely with their living room. Then Mom and Dad got Binky the Vicious, the Destructive, the Well-Equipped with Pointy Ends, the Cat of Doom, and I thought that an afghan out of a loosely spun merino single would not last long in their house. Dave and Shelley have no cats, just a love of soft comfort. Especially Shelley - they just bought a house for the two of them and there's finally room for Shelley's two big looms in it.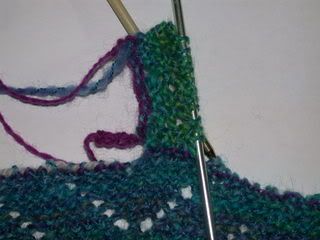 Remember that handspun lace shawl I wanted to finish for the Harlot event? Well, I finished the body of it, but I've only finished one repeat of the lacy border. Despite this photo, the border is the same color as the body of the shawl. Clearly, this border is not the sort of knitting one brings to knit at the weekly knit 'n' drink margaritas at my not-so-LYS.

My co-worker Chloe is having the first of the four babies due this summer - she's expecting a girl around August 31st. Thus, I am knitting the kid a Shetland wool bonnet, blue with a green ruffle framing the face and green/red/pink/yellow Fair Isle flowers. Now, while I can cope with three colors in a row of Fair Isle, I draw the line at four colors - thus, this greenery will get duplicate-stitched flowers at some point soon.
Why am I making a blue wool hat for a baby girl? Well, I had all the colors specified in the pattern (Blue Belle, from Lesley Anne Price's Kids' Knits), despite the lamentable fact that I don't have much Shetland in my stash at all. I took the presence of six correct colors as a sign that I should knit the hat. Plus, the hat is adorable in blue! Especially the real blue, not the blue that's showing up so strongly on my monitor right now. And Chloe's Canadian and will be moving back to Canada shortly after the baby's born - so the kid will need a proper wool bonnet, eh?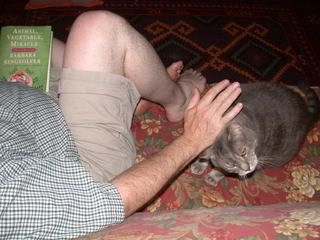 Finally, every knitting blog needs the occasional obligatory cat photo - here we have George, patting himself on Earle's stationary hand. Note the lack of hand-knit socks on Earle's feet - there's something wrong with that boy, I tell you.