Goal: 19 stitches to 4 inches in stockinette stitch, for Twist & Shout.

Size 7, as the yarn's ballband suggests, swatched, washed and dried, yields 20 stitches in 4 inches:

Is that good enough? This is a very nice fabric, sturdy, but with enough drape. Dither, dither...

Size 9, as the pattern suggests (for a different yarn): Clearly too sleazy. I didn't even bother with a photo, just ripped it out.

Size 8: well, I didn't have a size 8 circular free, except for the 40-inch-long one with metal tips, which I hate, or dpns, which I didn't want to fiddle with at 10:30 last night. Thus, after a short trip to a LYS today: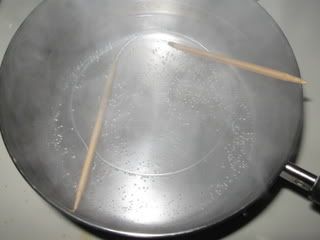 Stay tuned.