Well, for starters, I'm not wearing the Minimalist Cardigan. We (that's the royal we) have a back, a right front, and most of a left front, but no sign yet of the sleeves. Some wag suggested I pretend it's a vest, but I'm an honest knitter, so that's out. It could be kinda cold, though, I might need to wear a coat over a sweater, right? *wink*

Oh, well, I tried. My right arm hurts a good bit, I tried so hard. Here's a shot of the lovely contrast between the stockinette edging of the front and the moss stitch of the body - nice, eh?

And since I'm an honest knitter, I'll admit that I knit the back and one of the fronts - what's that, maybe half the sweater? - before I realized that the edging of the front is NOT turned back over the moss stitch, showing reverse stockinette - no, it's just straight on from moss stitch to stockinette, just like in the photo above. Yes, I read the pattern before casting on - no, I didn't comprehend it. Evidently.
More in the honesty vein - I will not be wearing to Rhinebeck:

a) the shawl from yarn I spun from fiber I bought at Rhinebeck last year - the body's done (unlike this photo), but the border's barely started; nor
b) the top from yarn I spun from fiber I bought at Rhinebeck last year - I might have finished a few more inches than in this photo, but not much more.
Sigh. Which means I did not achieve the resolution I made at the beginning of this year - Resolution # 3 over there in the sidebar. I'm so disappointed in myself, I might just have to buy myself lots of yarn and fiber at Rhinebeck next weekend to cheer myself up - right?
Especially this fiber...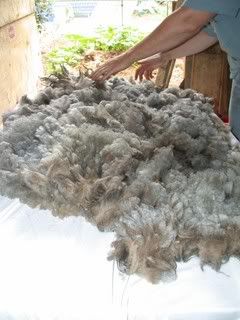 On the Columbus Day holiday last week, I helped my friend Pat and her friend Rhona shear the three Shetland ram lambs that, um, aren't living at Pat's house any more, shall we say. They're lovely little lambies, except all their balls didn't drop and some of their horns are headed straight for their brains, such as they are. So, Licorice, Pepperjack, and Oreo are no longer with us. However, their fleeces are going to Rhinebeck, as are Pat and her daughters Isabel and Olivia, because they all want to know how to tell a good fleece from a mediocre fleece. Me, I'm just going to snap up Licorice's good gray fleecelet (all 2 pounds of it) as soon as I can - I skirted those fleeces and they're nice stuff, as far as I can tell. Feel free to correct me, if you see one of these in the barn at Rhinebeck. I guess these are hogget fleeces, right? The first shearing, right?
And Pat's just about ready to get into spinning - she has the yearning, but she's still in the virtuous I-already-have-too-much-to-do, I-can-never-learn-to-spin, a-wheel-costs-too-much phase. I reminded her that a perfectly good spindle can be had for $30 or so; I might even get her one as a present, you know, just because I'm such a good enabler friend.