I've been busy, busy, busy.
The Fourth of July I was supposed to go kayaking, but instead spent the whole day in intimate congress with my swift. The Sloane yarn finally dried, so I wound it into balls. The second try at Kool-Aid dyeing the angora-merino laceweight revealed just how tightly the skeins had been tied originally, so I wound all six skeins into larger, looser skeins and redyed them, much more successfully, as you can see.
This is Ice Blue Raspberry Lemonade, if you like this color. The color in real life is a little lighter, much more robin's-egg blue, as Bonnie commented. I really like it!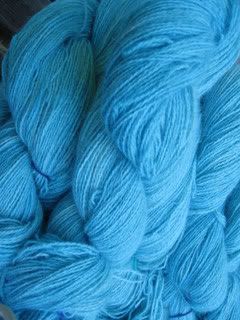 The yarn is still in excellent shape; now all I have to do is wind these into balls (more swift congressing!), swatch to determine needle size, and figure out Cat Bordhi's cast-on magic for her Streaming Leaves Shawl.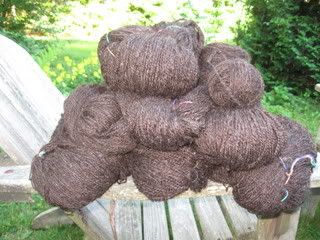 I also finished spinning, plying and washing the 3.5-pounds of brown Border Leicester cross roving I started in January - yay! I have no idea of the yardage, except A Lot, but I'm thinking I could knit the body of Norah Gaughan's Hex Coat with this, and use Noro Kureyon for the hexagons - what do you think of this color combo? I'm not too sure myself; it looked better under the fluorescent lights of WEBS.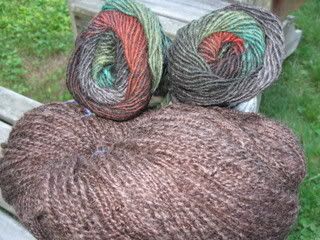 And, of course, the very next business day after I finish spinning this fleece, look what shows up on my doorstep:
Three fleeces' worth of roving from Friends Folly Farm - yes, I know only two fleeces are in this photo, but I found a place to stuff the third fleece and I wasn't going to disturb it. These are three of the four (what was I thinking?!) fleeces I bought at Rhinebeck last fall; a month or so ago, I realized I had better get them processed. A 6.75-pound white Romney by the name of Bell became 5.5 pounds of roving. A 5-pound Corriedale cross ewe named Princess turned out to be 4 pounds of nice light gray roving. Finally, a 6-pound Corriedale x Border Leicester ewe by the name of Freckles, who apparently had a run-in with a big thistle, poor girl, became 4.5 pounds of light brown roving. Fourteen pounds of roving. Somehow, I thought I'd lose closer to 50% of the weight of these fleeces; then I would have ended up with, say, eight or nine pounds of roving. That would have been much, much more reasonable. OK, maybe there is good reason to believe I'm a little wackers.
That all takes us through Friday the 4th and early on Saturday the 5th. Later on Saturday That Sue, That Darlin' Sue, and I went wandering into southern New Hampshire, to the Fiber Studio, to the Old No. 6 Book Depot used bookstore, and to the Elegant Ewe. I was restrained in my purchases - a little Habu at the Ewe (I've never seen it in person before!), a little silk for spinning at the Fiber Studio, only three books at the bookstore - I was very moderate.
Sunday, Terry invited a bunch of us to her house to try our hands at dyeing fiber in jars, per her post of a couple weeks ago. Somehow, the eight or ten of us managed not to dye the entire house, and my simplistic attempts at dyeing turned out thusly:
This was white Romney top, of which I have mumble, mumble pounds. I tried to foist off lots on the others there at Terry's, but oddly, they all seemed to have goodly quantities of fiber themselves. I'm surprisingly fond of the eye-popping yellow/green/blue ball in the middle here, and I'm certainly going to try this again. I might try mixing some of the dye into the water-and-vinegar mixture, in addition to the dry dye sprinkled throughout the fiber as it's stuffed into the jar - that might help disperse the dye more evenly and get rid of the stark white when it's not wanted.
What else? Oh, yes, the Tour de Fleece - I am learning to spin on a spindle, a Golding spindle, to be precise, for my Tour. I have spun just one skinny little predrafted length of this Spunky Eclectic BFL every day and look! I have a copful!
In fact, I have a weaving-bobbin full! I'm getting the hang of this, and I've only dropped the spindle once, luckily, since in this heat I'm spinning over the stone floor of my porch.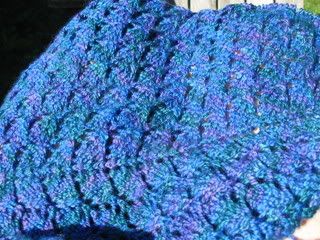 Finally, I am nupping along on the first border of my Swallowtail Shawl. After several failed attempts at making nupps with the size 4 bamboo needle used elsewhere for the shawl, with a tapestry needle, and with a size 2 straight metal needle, I have settled on knitting the nupps with a size 1 straight metal needle. Given sufficient light, it works.
I figure nupping might keep me out of trouble this summer. If not, there's always those mumble, mumble, yet more mumble pounds of fiber...