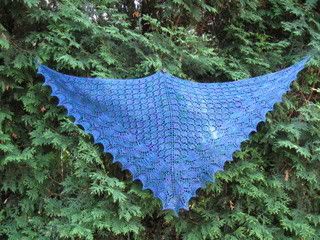 I finished my Swallowtail Shawl a few days ago. I was waiting to post until I could get the shawl, me, Earle, the camera, and sunshine all in one place at one time, but that ain't happening, so here you go...
Pattern:
Swallowtail Shawl
, by Evelyn Clark, Interweave Knits, Fall, 2006. I knit this exactly as written, except I used size 6 needles.
Yarn:
Great Adirondack Sirino
, 50% silk, 50% merino, in the Deep Blue Sea colorway. I used 60% of the skein, or about 405 yards. That means there are about 270 yards left over, enough to make a little scarf - which is a good thing, given how expensive this yarn was (never buy yarn in a shop where they don't put the prices on the skeins, or at least on the shelf nearby; that's all I can say).
I loved knitting this, once I figured out to use a size 1 metal dpn to do the nupps. The yarn blocked beautifully. I used blocking wires on the top edge of the shawl, which was a bit of a pain; next time, remind me to use cotton threaded through the edge instead. And this fits me perfectly! It was about 42" wide by 19.5 inches deep, pre-blocking, and 57 inches wide by 26 inches deep, post-blocking.
There's a lot more on the needles and the wheel, but I'll save that for tomorrow. Today, all you get for extra is this beautiful purple leaf.