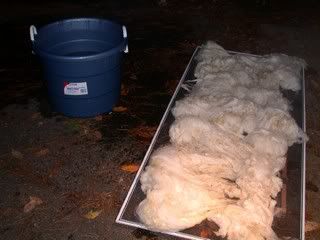 Fleeces! Two of them! White and very dark gray! Mine!




So there has been lots of washing, some in the dark, because I couldn't wait till morning, and lots of vm picking, especially from the black fleece, which is pretty filthy. The white fleece is basically clean and dry now, but I've only done a little bit of the dark gray. Goal: two clean fleeces, ready to be dropped off at Rhinebeck to be processed into roving.

I bought these from a former shepherdess in the next town over. They are Border Leicester/Dorset/Finn mongrels. The white fleece has about a four-inch staple, with lots of crimp, and the dark gray has about a six-inch staple, with those little curly tips that are supposed to be characteristic of Border Leicester. I'm really looking forward to seeing how this experiment turns out, as I really haven't the foggiest idea of how to deal with raw fleece. I need a spinning mentor!
In other news, Lizard Ridge is addictive. Here are three squares, each of them the same Kureyon colorway alternated with one of my handspun yarns. I just love knitting these up, even those I'm not exactly sure I like how the colors are working together amongst all the squares.

My mom's Christmas scarf is coming along. It's about 32 inches long, unblocked, and I have about half the yarn left. Looks like that gift will work out.

However - and the easily scared among you may wish to look away for a moment here - there are only ten weeks left till Christmas. I don't know about you, but I have to get cracking. No lollygaggling around playing with Lizard Ridge blocks - I have to finish my mom's scarf. And knit the hat for Earle out of my handspun. And etc., etc., as you can see here in this purely hypothetical knitting/spinning schedule:

Week One: finish knitting Mom's scarf
Week Two: knit Earle's hat; the yarn's already spun
Week Three: spin up the black alpaca/silk for two presents
Week Four: knit the alpaca/silk into a scarf for Dad
Week Five: and into a scarf for Friend #1
Week Six: spin up the red Grafton Fibers batt
Week Seven: knit the resulting red thread into a scarf for Friend # 2
Week Eight: spin up yet-to-be-acquired navy blue wool
Week Nine: knit navy yarn into scarf for Brother #2 (Brother #1 got a scarf last Christmas)
Week Ten: finish up any straggling projects, wrap, mail, and decorate the Christmas tree.

Well, you know how this will turn out. Probably more like this:
Week One: get most of Mom's scarf done; buy fiber at WEBS tomorrow for Brother #2's scarf. Finish the baby hats I promised someone completely heretofore unmentioned. So far, so good, really.

Week Two: knit Earle's hat; the yarn's already spun. Finish and block Mom's scarf. Feel virtuous and invincible. Go to Rhinebeck and spend all of the rather large mileage reimbursement check I'm expecting, and then some, on gorgeous fiber. I deserve it, right? I'm on schedule for my Christmas knitting.

Week Three: spin up the black alpaca/silk for two presents. Well, start this, at any rate. Did I mention I bought a pound? Give in to Lizard Ridge temptation and knit another block. Feel exceedingly guilty about not finishing spinning the alpaca/silk. Also guilty about not even starting the hat I promised Noah months and months ago. Especially now that it's actually cold outside. Helping Sue pack and move alleviates some of the guilt, but takes up an entire day that could have been devoted to knitting and spinning.

Week Four: Finish spinning the alpaca/silk. Start knitting the alpaca/silk into a scarf for Dad, probably some variant of the cabled Irish Hiking Scarf. Get about four repeats into it, and realize that the cabling is lost against the black, not to mention amongst my uneven spinning. Frog the scarf, and spend most of two evenings browsing through patterns, trying to find something appropriate. Finally decide on something and get about a quarter of the scarf done.

Week Five: and into a scarf for Friend #1. Yeah, right. Finish Dad's scarf, if I'm lucky. Oh, and the monthly spinning group at WEBS meets this week, so I really should be spinning rather than knitting, because I want to ask these helpful spinners how to improve. Decide to treat myself and bring along four ounces of hand-dyed BFL I bought at Rhinebeck; get maybe one ounce spun.

Week Six: spin up the red Grafton Fibers batt, supposedly - I don't think so. In reality: Spend two nights finishing spinning the BFL and plying it. It's gorgeous, but it has nothing to do with Christmas presents, so I tuck it away. Start knitting the scarf for Friend #1. Finish knitting Noah's hat. Start panicking. (oh, and this week is Thanksgiving, too, which may help. Or not.)

Week Seven: Finish knitting the scarf for Friend #1. It's gorgeous, if I do say so myself.

Week Eight: Debate whether I should work on the scarf for Brother # 2 or Friend #2. Do some other Christmas shopping. Let my sore wrist and elbow rest. In short: not accomplish a thing.

Week Nine: Okay. I won't see Brother #2 till after Christmas, so put that off a while. Like maybe till next year. Spin up the red Grafton Fibers batt. Start Friend #2's scarf with it.

Week Ten: Knitknitknitknitknitknit. I am so sick of knitting. Finish the red scarf, barely.

Christmas and thereabouts: Give everyone their handpun, handknit presents. They are all ecstatic with happiness. Feel guilty anyway about not finishing Brother #2's scarf.

I bet we all know which scenario I'm going to follow...