Rhinebeck. What can I say? What can I say that hasn't been said by 90 million other knit bloggers? I don't think I can do any better than to repeat what I posted on the Knittyboard this morning, just fleshing it out a little. Here goes....
Oh my gourd. That was one incredible joy of a weekend. My friend Sue and I went and tented quite successfully (but boy, did I enjoy the hot shower when I got home last night) (the electricity was out at the park, for those who didn't know) (that's Sue above, setting up the tent in an absolute flurry) (had enough of my parentheses yet?), waking to this sight, across the Hudson. Plus three does lilting out of the vicinity.
We found an exceptional restaurant for dinner (Portofino in Staatsburg, near the campground), an exceptional breakfast spot (Famous Pete's in downtown Rhinebeck), and only got lost three or four times in one very small area. And we went to the fair.
I didn't buy any yarn. I didn't buy a wheel nor a drum carder nor a single pattern nor even anything to eat at the fair, except a cup of coffee. But, yep, I bought fiber, including a little 4.25-pound Netherlands Modern Texel x Friesan fleece (anybody know anything about this? At $17, I couldn't resist). And 3 pounds of Romney roving - I want an Irish fisherman's sweater - and bunches and bunches of dyed roving and various exotic fibers to try. About 12.5 pounds of fiber, wool, silk, angora, mohair, Tencel, alpaca, at least seven different breeds of sheep. At least it all fit in the car. And on my couch.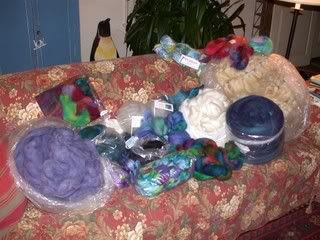 Oh, and Amy Singer - yes, THE Amy of Knitty.com! - pinned me! Yep, Amy and I are going steady now, so the rest of you can just back off. I get all the wool in the world; she can have all the other fibers, we're a perfect pair. OK, in reality, I ran into Amy in one of the barns, rudely pointed right at her and said, "You!", and she graciously laughed, accepted my adulation, and gave me - put it on my sweater herself - a little pin that says I heart Knitty. So, like I said, we're going steady.
And then I managed to slobber obnoxiously all over the Yarn Harlot in another barn, who only by the grace of a proper upbringing resisted smacking me down. I fondled her newly blocked wedding shawl without permission, fer gourds' sake. I really should write a note of apology.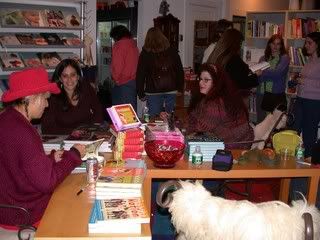 And then at Morehouse, THEY were all there. Amy and Jillian Moreno and Debbie Stoller and Melanie Falick and Tara Jon Manning and for all I know, more stellar authoresses. See that little yellow bag on the right end of the table. That's Amy Singer's bag. Before I got up to take the photo, I was sitting right there in the sheepskin chair in front. Again, I was terribly rude, I didn't buy a single book. I have them all. Or damn near all.
Wow, I am SO going back next year. I am SO wearing something I knit. I could not believe all the extraordinary clothing I saw.
Including Sue's scarf. Here she is in the breakfast spot parking lot, tinking back after running out of yarn during the bind-off.
And showing off the bound-off scarf an hour later at the fair.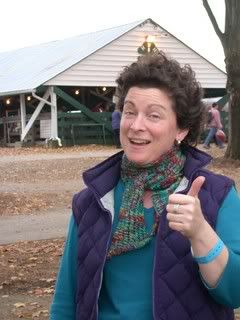 My thoughts exactly, Sue! And I hereby vow to spin up some of the fiber I bought this year, knit it into something swoon-worthy, and wear it to Rhinebeck next year. You can hold me to that!