OK, I'm back from la-la land. Just uninspired to blog these past few weeks.
But I was re-inspired when my Spinning Secret Pal, Cortney (aka Merlinthecat), sent me this wonderful second course - 4 ounces of alpaca/merino/tussah silk, 3.5 ounces of gorgeous multi-colored merino from handpaintedyarns.com, an adorable dragonfly tile, and an iridescent beaded dragonfly that Merlin made herself! And wonderful BFL roving in purples...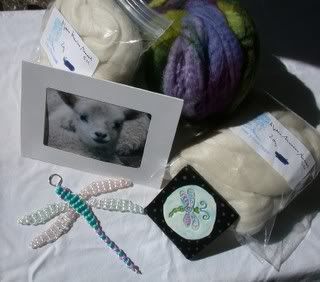 Which I loved so much I immediately started spinning it up! Here are the results - about 114 yards of two-ply taking its first beauty bath. Beautiful stuff, yes? Thank you, Cortney!!
In other news, I finished my first Lizard Ridge block, half Kureyon (the darker colors) and half my handspun (a pale blue merino single plied with a commercial blue/pink rayon/silk). I'm not sure I like the way these colors work together in this one block, but I'm pretty sure that over the course of an entire afghan, it'll all work out. As will the different gauges of Kureyon and my, ahem, variable homespun.
And I'm maybe a quarter done my mom's Christmas scarf, knitted in feather-and-fan from my homespun.

Here's hoping my fiber mojo is back on track. Cuz if not, there's a helluva lot of fiber in various forms around this house....