It's not that I don't want to knit, but my hands are rebelling in a rather serious fashion - within five minutes of starting to knit, they start to tingle and go numb. So I'm taking a break.

Luckily for me, it's
Spin Every Day
month! On New Year's Day, I grabbed the first big bag of roving I came to in my stash and hied myself to my wheel. Well, come to find out, the roving was one of the Border Leicester cross fleeces I sent off to the
Friends' Folly mill
in Maine this past spring, when I was there for the
Fiber Frolic
.


I've made real progress - here are three fat bobbins full of nice thickish singles. One more bobbin, at least, and then I'll ply to make a worsted-weight 2-ply. I may dye it, I may weave with it, I may just stick it in my big bin labeled Handspun, but I am enjoying this spinning immensely, especially with all the nice company I have on the
Knittyboard
.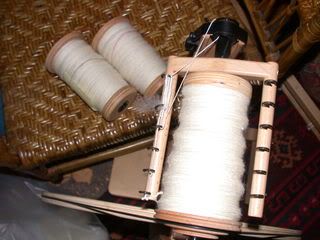 Speaking of company, you all are invited to join me, my Knittyboard spinning pals, my real-life creative friends, and anybody else who wants to show up at this month's Second Sunday Soiree, next Sunday, January 13th, from 1 to 5 PM at the
Millers River Environmental Center
in Athol, Massachusetts. These soirees are casual gatherings I'm hosting, where everyone is welcome to bring their knitting and spinning, their musical instruments, their paint pots, and anything else that tickles their creative fancies. Any questions, just leave a comment and I'll get back to you.

On the weaving front, I've finished the third strip of heathery knitting yarn on my rigid heddle loom. I'm not sure I like how these three strips look together, yet, but I'll wait until I have all five strips before I decide on the final placement and start sewing the strips together.


On the 4-harness loom, I've woven maybe 3/4 of the ball of Noro sock yarn into this:
From a distance, this is thrilling, but I'm definitely learning a lot about how to repair broken warp threads and how to aim for nice selvedges on this scarf, not to mention how much of a pain it is to try to make smooth color transitions in the weaving, while winding the yarn onto bobbins to weave with. In short, this is a great learning opportunity. Ahem. Quite. We'll leave it at that for today.