I think the sleeve cap for Pebbles is too long, now that I'm three rows from finishing the first sleeve. Note the evidence.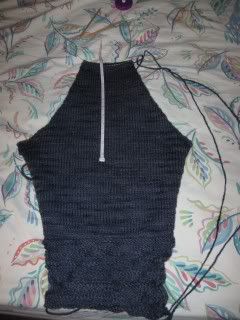 That tape measure reads 11 inches for the sleeve cap.
Several other trusted patterns I've consulted give heights of around 7 inches for the cap of a set-in sleeve.

While the front and back of Pebbles line up perfectly (whew!), I think that sleeve is too long, even allowing for the easing-in needed to fit sleeve to body.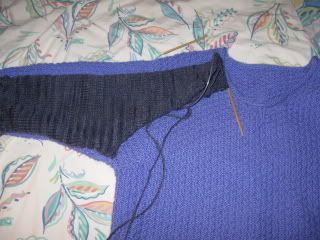 When I line up the Pebbles sleeve over the sleeve of a knit-long-ago set-in-sleeve sweater, the length from cuff to underarm matches perfectly, but the length of the Pebbles sleeve cap is sufficient unto a raglan sleeve, damn it, damn it damn it damn it.
And in case you're wondering, the pattern has no line-drawing schematic to check AND I am getting both stitch and row gauge. Not to mention being remarkably far along in this NaKniSweMo nonsense.
Until now.

Damn.
And the worst part is that I was beginning to run out of enthusiam for knitting this. Sleeves are boring. And long. Especially long when they are too damned long for any normal sweater known to knitter, as I believe I've mentioned. So my attentions were starting to wander. I am still sick enough not to have the energy to spin, especially at my usual fast pace, and the Twist & Shout ribbing is irritating to my befuddled brain. When I saw this yesterday on the Mason-Dixon blog, I started to lust anew. But no, I told myself, I am committed to finishing at least one sweater this month and getting pretty far along on two others. No distractions. No new projects. God knows, no new yarn.
And then came the sleeve cap stretching from here to Timbuktu.
Now, can you really blame me if I've been looking at Lamb's Pride Bulky on the WEBS site and debating what colors I might go get tomorrow, if I'm still in a virally demented snit over this blasted Pebbles pattern? I know you'd be doing exactly the same thing.
Oh, Exalted Sheep on Yonder High Hill, give me the strength to do what I ought, to fulfill my promises, to resist the seductions of NewProjectNewYarnPantPant, to frog and knit that sleeve into submission. And then knit the other sleeve correctly and to match.
I may not be that strong.