Point #1: I've made up my mind. This version of the mushroom hat has got to go. The blue and green are too close in tone, and neither of them has anything to do with the colors in the ribbing. I'll try again.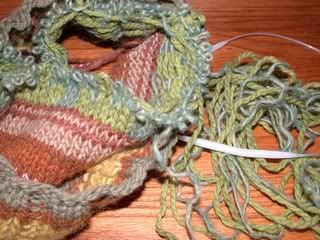 Point #2: The scarf I was knitting Sue for Christmas? Bye-bye, all two inches of it. I finished the scarf for my dad out of the same black handspun alpaca/silk, and I have absolutely no desire to knit another five feet or so out of it. My dad's scarf is great, I love it, I'll love it, I know Sue loves that yarn, but if I have to spend another ten days knitting that particular blackness, I'll scream.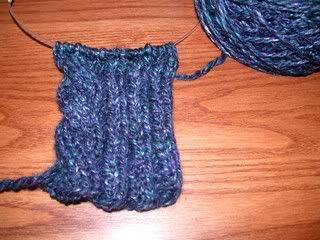 So I went into my handspun stash and came up with this: merino/silk, sort of gray and turquoise (not nearly as navy as this photo shows). Thank God for the turquoise! And I'm tired of fiddly knitting - this is the last of six scarves and hats I've spun and knit for Christmas, you know - so we're going with a simple, yet effective 4x4 cable to one side, k2p2 ribbing to the other. Pattern from Leigh Radford's One Skein. I like how this is working out. Substantial, yet soft. Straightforward, yet with sensuous curves. And only about 30 or 35 repeats of an 8-row pattern to go.
Point #3: I like Dale's Sisik yarn. It's good wool, aside from the bits of colorful fluff that aren't that well attached. It feels good to knit this. So good, I've already reached the end of the bottom ribbing. Alas, this yarn has been discontinued. If you find it, buy some.