I need some mindlessness tonight. More to the point, I am mindlessness tonight. My tummy aches; thus I have no brain. Tonight I cannot even cope with the Row 1: k11, p2, k2, p2, k11 of basketweave, even when I'm close to finishing this scarf for my dad for Christmas.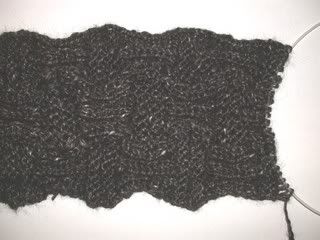 Tonight I cannot cope with deciding whether the little blue mushrooms show up well enough against the green background on Noah's hat, much less whether all of that clashes too much with the colors of the ribbing.
Tonight I need to knit something like this.
Isn't that a lovely basic sweater? (Appallingly wide, but never mind, never mind, I couldn't possibly be shaped like that in real life.) I've had this sweater for maybe 20 years. No, I didn't knit it; it's a store-bought sweater, out of 85% acrylic/15% wool yarn. It does not pill, it goes through the washing machine with no problems, and nowadays everyone asks me if I knit it. Which I didn't.
But tonight I think I can cope with your basic k2p2 ribbing on a basic medium-sized circular needle, with nice medium-sized yarn from my stash. Like this.
I think Fridays nights should be for comfort knitting, don't you?