Accomplishing a lot means: a) I don't have time to blog; and b) I have a lot to tell you about when I do get around to blogging (in other words, I'm avoiding raking the leaves this afternoon).

So, let us start with knitting, shall we?
I finished the Minimalist Cardigan about 10 days ago, and I love it! I have a few days right after I finished when I thought, eh, is this all there is? But I figure that was just a short bout of the baby blues, because I've worn it several times since I finished and I find it very comfortable and I get lots of compliments. I'd show you a photo of it on, but I can't get me, a photographer, and the sunshine to all be in one place at once.

The details:
Pattern:
Minimalist Cardigan
, by Ruthie Nussbaum, from Interweave Knits Fall 2007. I knit size 43 1/2.
Yarn: Malabrigo merino, in the color verdeazul, about 5.5 balls, which is just about the yardage the pattern called for. I am proud to say that this yarn was in my stash and that I bought it at a 40% off sale.
Needles: Clover bamboo circulars, size 7.
Stated: August 26, 2007.
Finished: November 9, 2007, just about 11 weeks, slightly over the 10 weeks
I estimated it takes me
to knit a sweater.
Modifications and Comments: The only thing I modified was the grafting at the back of the collar: I did a three-needle bind-off instead, because I simply couldn't deal with grafting.
I don't think it makes any difference in the final garment, and since the Malabrigo pills terribly when you mess with it, I think it would have been hell to graft with. Which reminds me: I didn't use the Malabrigo for seaming; I used some Paternayan needlepoint yarn I had around.
And speaking of pilling, the collar is already pilling, after only a few days of wear, but the moss stitch isn't pilling at all. Interesting, eh? I think I'll invest in a sweater stone.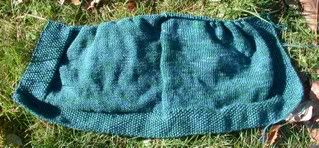 The only other knitting I've been doing is this Big Bad Baby Blanket; I'm maybe one-third done. It's slow, but I'll keep plugging away on it. Luckily, this baby isn't due till mid-December.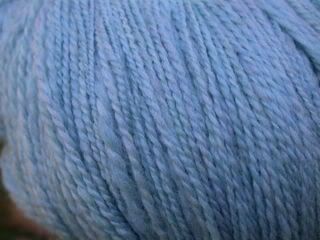 In spinning news, here's a photo of the Ashland Bay merino/silk I spun up a while ago, but couldn't get a photo for you. I have no idea what the yardage is on this, except "a lot," because I couldn't stand to count that many strands in the skeins as I wound it off on a swift. I think I need a skeinwinder and/or one of those yardage counter doohickies.

Last weekend, I had such a strong urge to spin that I grabbed the nearest hank of hand-dyed top, some Romney in deep purples, browns, and silvers. Lovely stuff, and I'd tell you the dyer, except.... Well, anyway, I spun it up very quickly and loved it! It looked like a brocade sitting there on my bobbin! I'd show you a pic, but all the ones I took were blurry, and I loved it so much I immediately plied it with four colors of Shetland fingering-weight yarn that I had, and plunged the yarn into hot water with Eucalan.
The dye ran. Darn! See that lighter colored skein above? I spun the darker strand; the lighter strand was light pink Shetland - now it's light purple, despite what your monitor tells you. I rinsed this yarn several times and added some vinegar to the last wash, and the water finally ran clear, but I'm afraid the yarn is much more muddled in color than when I plied it. Oh, well, I guess I should have been suspicious when a little of the dye came off on my fingers as I spun it.

In better spinning news, I have a new convert to introduce to you.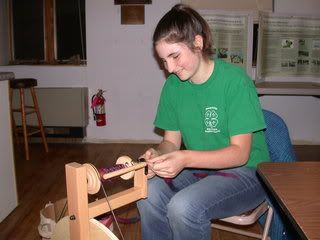 This is the lovely and talented Isabel. She is 13 and she is spinning her first-ever single on my Louet S10. She looks happy, doesn't she? Last Sunday, we had the second in a series of Second Sunday Soirees we're having at the
Millers River Environmental Center
, in Athol, MA - a chance to everyone to come hang out in the afternoon and knit, spin, weave, whatever (feel free to join us on December 9th!). Isabel came with her mom Pat and her sister Olivia. This is the same Isabel who went to Rhinebeck with Pat and me, and the same Isabel whose Shetland lamb fleece I bought at Rhinebeck. We are all very proud of Isabel, aren't we?

Finally, I have weaving news!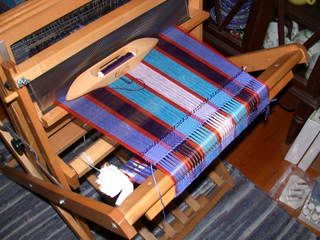 Last weekend, I started a four-part beginning weaving class at the
North Quabbin Textile Studio
, with Donna Cavagnac. Before the first class, Donna had each student pick out 4 or 5 colors of cotton, and Donna, bless her, warped the looms for us with five yards of striped warp. That meant that at the first class we could just start weaving away! Donna started us with a few inches of plain weave and then gave us some treadling instructions for different twill patterns. After a couple of hours, she sent us home with our looms (4-harness Schachts) and cones of cotton, with a homework assignment: weave off the warp. Boy, there's a lot of weaving in five yards of warp! I didn't finish until a couple of hours into yesterday's 6-hour class. I haven't washed these pieces yet, but here are a lot of photos of some of what I wove on that first warp.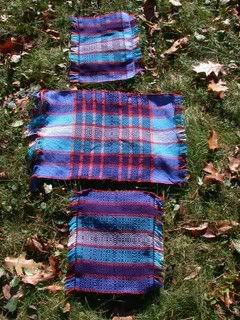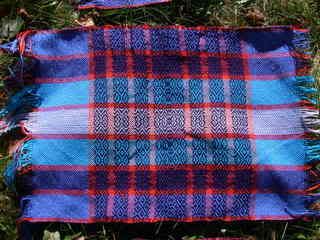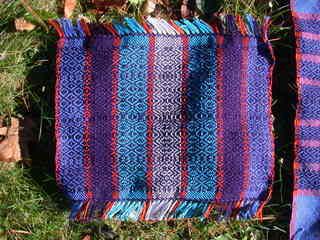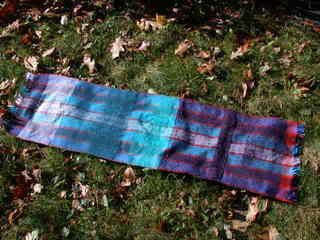 The last three photos show the stretch where I used some of my knitting yarns as weft, just to play (note the leaves I should be/am not raking up). I really like how the textures of the cotton and the wool or silk or wool/viscose or whatever played off each other. I'm not so sure how these will wash up (and Donna was a little worried, too) but even if the piece gets ruined in the wash, it was worth it to learn how the textures worked with each other.
After we finished our cotton warps, Donna had each of us (there are 4 students) choose colors of rayon chenille to weave two scarves. Then we got to measure and wind off the warp ourselves, and warp the loom by ourselves (with a lot of help...). The next homework assignment: weave those two scarves, one in plain weave, one in twills. I suspect I'll be badly behaved and mix up twills and plain weave in both scarves.
So, I've been busy - how about you?