It occurs to me that I've been whining a lot here recently. And that whining is neither good for my soul nor fun to read (but thank you, dear readers, for your supportive comments). In my hubris, I'm thinking that I even seem to have infected Elizabeth with what she's calling melancholia.

So, enough of that. Let's focus on what I have accomplished, OK?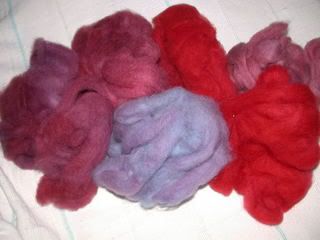 For example, this lovely pile of Kool-Ade-dyed Border Leicester roving. Scrumptious, I must say. Downright edible. Makes one wonder exactly what our tummies look like after drinking Kool-Ade, doesn't it? Anyhow, this is roving processed by Friends Folly Farm in Maine, from one of the Border Leicester Cross fleeces I bought last year from a local sheepherder. I've dyed yarn with Kool-Ade before with these instructions, but not roving, and I was a little anxious that the roving would turn out felted or ugly or bad in some way.

It didn't. I can tell you that the process worked a lot better for me if I simmered the dyeing roving in a pot on the stove, rather than in the microwave, but it worked! It worked! Color! I made color! I can't wait to try spinning it up; my wheel has been tied up all summer with a pound of pale aqua Ashland Bay merino/silk right now – lovely stuff, but it's taken the entire summer to get it spun. I just finished plying it this morning and I can't even get a decent photo to show it to you - I think I'm going to have to start using the tripod. Every photo turned out blurry - perhaps it was the excitement coursing through my veins over finishing the spinning.


Second example: this is not me. This is my friend Elizabeth (a different Elizabeth), who has just finished the sweater she's wearing. Nice, eh? Furthermore, she designed it herself. Very nice, yes? Note the nifty neck detail. Further furthermore, she bought most of the yarn years and years ago in Nova Scotia, or something like that, and because she is....well, not like me, shall we say, she felt that she should knit up the yarn into something wearable before she bought more yarn. (Yes, I know; I am doing my best to convert her.) So over the years, she has tried one design after another with no success, and thus no new yarn either, till finally she asked if she could borrow some of my knitting books for inspiration. I believe it was Sally Melville's use of tweed stitch that got Elizabeth on the path to happiness and joy, but Elizabeth was kind enough to credit me with being the catalyst. And I am happy to report that Elizabeth has already bought yarn for the next sweater - see that little square she's holding? That's part of a mitered-square-ish back to the new sweater. Stay tuned.


Third example: The fronts of the Minimalist Cardigan are blocked and ready for the grafting of the collar at the top and the seaming with the other pieces with that little skein of needlepoint wool there in the middle. Yes, that means the other pieces are finished (well, OK, OK, there's still the cap on one sleeve to go; picky, picky). I plan on using the needlepoint yarn for seaming, because the Malabrigo is too soft and I don't think it will hold up well. By the way, the stockinette collar blocked out quite nicely; there's just a little bit of a roll on the long, vertical edge and I like it that way. And the sweater fronts are the same size; they just look wonky in this photo because I didn't pay attention to how they were laid out.


Fourth example: At the Franklin County Fiber Twist last weekend, Earle bought some raffle tickets to support the whole shebang and ended up winning this charming apron, which he promptly gave to me. I plan on getting it filthy with dye as soon as practicable. Those are big bags of roving the apron's sitting on, by the way, from the fleeces I bought last year. Lots and lots and LOTS of dyeing to be done.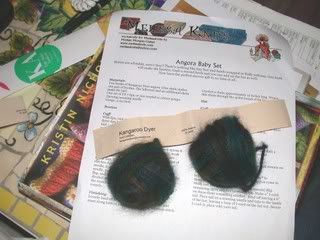 Fifth example: Speaking of the Fiber Twist, Gail Callahan, the Kangaroo Dyer, has saved my ass. As you will remember, I have one more baby due to arrive in my vicinity this year - in mid-December, to be exact. Now, I had bought some of Gail's sock yarn to make into a Big Bad Baby Blanket, and I had even cast on and knit maybe 10 rows, sometime pre-Rhinebeck. Then I got sucked into the Minimalist vortex. I don't think the baby blanket will get done in time. Instead, at the Fiber Twist I bought two adorable little skeins (which I've already wound into balls here) of Gail's hand-dyed angora (not very photographed above, I'm afraid), and I plan on making booties and a little baby hat from them, using Melissa's pattern. I may even start them tonight, as I spent the afternoon raking (only some of the) leaves, and I deserve to put my feet up right about now.
Angora in November. How much better does life get?