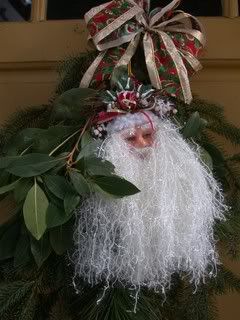 Whew, that's over with! OK, where were we?

Ah, yes, babies! This is another lousy photo of Kristin's baby's hat finished - all together now: awwww. Kristin's not due for another week yet, so I am very proud to say that I finished knitting presents for six babies this year before each one was born, and I'm even happier to say that all those born so far are doing just ducky, along with their moms, and there's no reason to expect Kristin to be any different. Whew, indeed!

In other news, I'm in love with what's coming off my rigid heddle loom - look!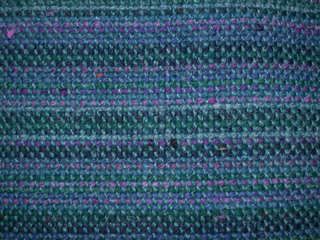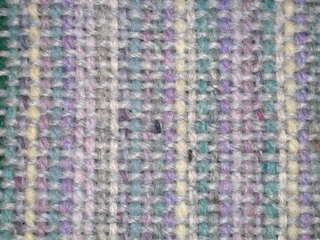 And look some more!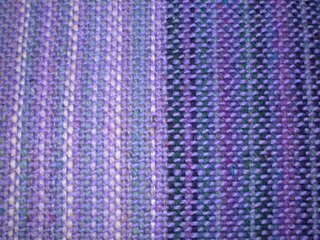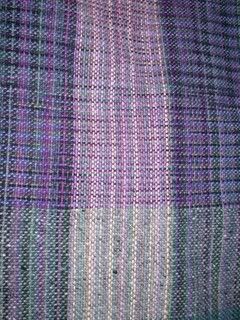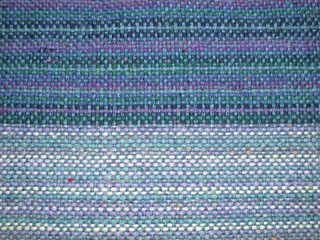 And still more!
This is a strip about 20" wide by 6 feet long, of leftover heathery knitting yarns in worsted weights, or thereabouts. I measured off 2.5 yards in bundles of 12 different 2-ply dark blues, greens, and purples for the dark stripes, and then eight or so light greens, off-whites, violets, and pale blues for the light stripe in the middle. I tied each strand onto the loom in a random fashion to be my warp. Then I chose singles, loosely-spun, and other not-so-sturdy yarns to be the weft, dark, medium, and light colors, and wove random blocks of weft. It turned out to be beautiful! It has a lovely pointillistic effect, especially once washed (I think these photos are pre-washing).

I'm planning to make five such strips out of the same leftover yarns and then sewing them together on their long sides to make a blanket or throw. I've already woven the next strip, making the warp light-dark-light striped rather than dark-light-dark striped. I'll show you photos of that tomorrow, I think. I don't like it quite as much on its own, but I like very much what these two first two strips look like butted up against each other - different levels of simplicity and complexity juxtaposed, not to mention using up boodles of old yarn.

As for the big, 4-harness loom, I've replaced all the cords holding the harnesses and treadles with Texsolv cord, which has made the job of balancing everything against each other much simpler, and I'm just about ready to take a deep breath and try warping the loom again. I spent this morning at the WEBS year-end sale and came home with two big bags of coned yarn - cottons for napkins, Tencel for scarves, red and white rayon for a Christmassy shawl, I think, and a cone of light gray textured silk to dye.
You didn't think I'd let my supply of yarn get dangerously low with all that weaving, now, did you?