Why is finishing something so hard?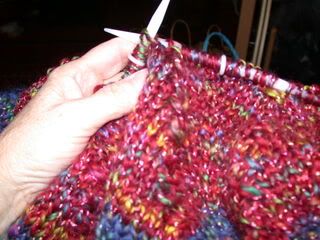 Here are 18 rows of red; I need to knit only six more to finish this giant afghan entirely.
I've already knit ten blue stripes - eight rows each, that's 80 rows of blue - and ten red stripes - one of 24 rows, nine of 12 rows each, 132 rows of red in all. Plus those 18 rows in the last red stripe. So, I've knit 230 rows so far.
But those last six rows - oh, they drag. They dawdle. They move along as fast as a slug on a hot, dry sidewalk. Six rows is only 2.5% of the total - not much really, but too much, really.
Isn't knitting supposed to foster patience? I think I'm really more of a process knitter than a product knitter, although if there's a category for knitters who constantly start new projects while leaving a trail of unfinished ones - well, yup, that's me.
Maybe I should start another afghan after I finish this one. Maybe I'll learn patience then.
Five rows to go. An eternity.
I forgot to count the cast-off row, so it's back to having six rows to go. Damn. And the weaving-in of ends, although luckily most of them are already woven in. Plus, when I get that close to the end, I'm obsessed with finishing.
Unlike these final four rows. Sigh.