You know, for all that I complain about how little I get done, I do a lot. I just move in all directions at the same time - what's called Brownian motion, if I remember correctly.

So, here is a finished, blocked Zigzag Afghan, ready to be packed up and shipped to my parents. This is exactly, and I mean exactly, down to the dye lots I think, like the one I knit
last year
for a wedding present. Go see that post if you want the details. I still have some of the red yarn left, but having knit two big afghans and an Einstein Coat from this yarn, I think I'll give it a rest.

Exhibit #2: I cast off my Road Not Taken scarf last night and it's blocking now. I got to use my blocking wires for the first time!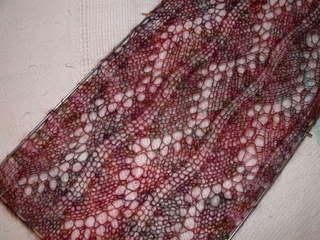 In case you've forgotten, this is a Lisa Lloyd pattern, from her new book A Fine Fleece. Despite it being a very simple lace pattern, I screwed up now and then, as you can see from this close-up.

Unlike
some wonderful anal-retentives
we all know and love, I decided to leave many of the imperfections in this scarf. Life is too short to worry about perfection and, come on, once I wind this around my neck, are any of you going to notice the occasional bungling? No, you're not. And if you do, step back 20 paces.

I've said this before and I'm going to say it again: The yarn I used for this scarf was wonderful. This is Gail Callahan's (aka
The Kangaroo Dyer
) kid mohair/silk hand-dyed confection - get thee to her
etsy shop
and buy
some
. You will not regret the purchase. The pattern calls for 400 yards of laceweight; each ball of Gail's yarn said it had 240 yards, so I figured I was well-set with two balls.

Indeed, I was. I followed the pattern exactly (well, aside from the occasional screw-up) and after not quite one ball of yarn, I had knit 18 repeats of the pattern, making a scarf 7" by 68", blocked. Long enough for me. So, buy one ball. (I see that her etsy shop says the yarn has 330 yards per skein; I bought the yarn at Metaphor Yarns in Shelburne Falls, MA, where the label said 240 yards per skein.) Trust me, you need this yarn in your life.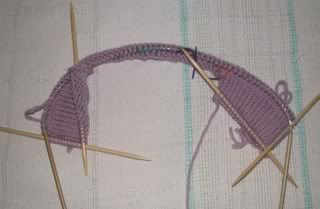 Exhibit #3: Just so Elizabeth stops worrying, I did make it through the birthing process of her handsome Sloane Pullover. I'm using Debbie Bliss Merino Aran in a pinky lavender with the catchy name of #325601, since I had the exact amount called for in my stash and it came to hand in the first stash bin I opened (no, I have not memorized the locations of all my yarn). I've never knit a sweater with this construction before - cast on along the top of the shoulders, knit down in all directions - and as you may remember from my last post, it was a little complicated. But I'm all set now - onward!
Exhibit #4: I went flower shopping yesterday, since I'm craving color and life. A hundred bucks later, I have these four pots, plus more, all planted up on my porch.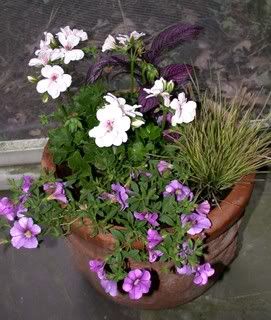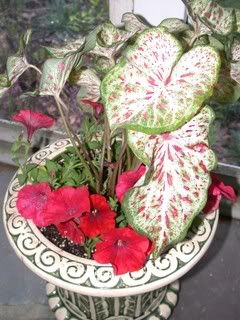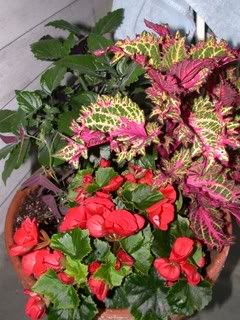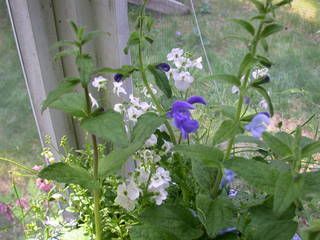 That last one's for Terry, of course. And everyone's invited to come knit and spin on my porch this summer.
Exhibit #5: Yesterday I also went to WEBS' tent and fleece sale. I didn't buy anything from under the big tent, I didn't buy anything inside the store. I did, however, buy some Rambouillet roving from Tintagel Farm of Brookfield, MA, and this beautiful sock yarn from Diane Roeder of Sojourner Design.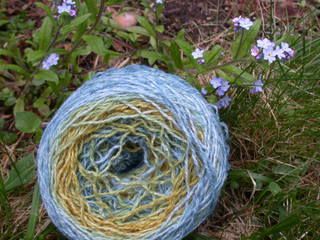 See those long color repeats? This is sturdy, rustic (read: a little scratchy) yarn, perfect for socks, but I'm very tempted to use this in a scarf. I may knit up a swatch and wash it to see how much it softens, if any, although Diane noted it's already been washed in Eucalan.
Oh, and another sheep followed me home. No flesh and bones and big brown eyes, though - just a wooly hoggett Romney X Border Leicester coated fleece with gorgeous crimp and luster, from Winterbrook Farm in Staffordville, CT. Now, tell me, could you have resisted this beauty, even if there are, ah, maybe 7 or 8 fleeces in the house already?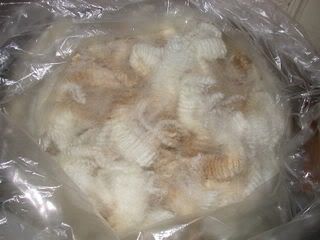 I didn't think so.