I've been knitting away madly on my mauve stockinette obsession, aka Elizabeth's Sloane Pullover. I'm past the waist sideline decreases, maybe halfway through the past-the-waist increases. I'm very proud of myself for being so faithful.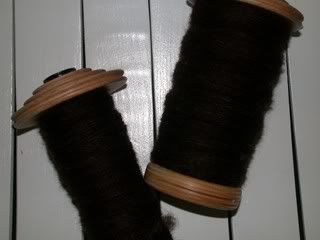 On the other hand....I am sick of brown. Sick, sick, sick of spinning up this brown fleece.
So, the other night I finished spinning up, badly, the silk cap I started back in, oh, February.
Pretty!
So, then I pulled out 2 ounces of merino and tencel. I'm afraid I can't remember where I bought this, and my spinning certainly didn't do the colors justice, but look!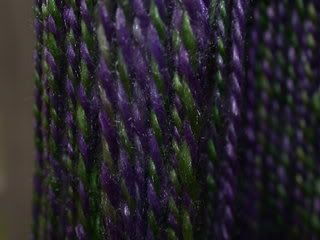 Pretty!
Shiny!
Very pretty!
Well, that only took a couple of nights, so then I grabbed 4 ounces of gray Shetland roving (again, I'm afraid, from an unnoted vendor somewhere at Rhinebeck). Not shiny, but pretty! And very soft to spin; I think there was still a good bit of lanolin in the fiber, so it felt very different from the silk or the merino/tencel.
And next? Since I'm clearly loving this roll in the fiber stash -


Well, the next fiber on the top shelf of the bookcase full of fiber is the silver colonial wool/tussah silk from Ashland Bay, on the left in this photo. On the right is the same weight of Ashland Bay merino/silk. I'm thinking of plying singles of each together, so as to get enough yardage to really make something of this, but I'm not sure - they look too differentfrom each other. What do you think?