Don't you just love June weekends? Despite the sucky weather of this one (it's 60 degrees F today and overcast; not warm enough for dragonflies but definitely warm enough for the mosquitos to be out, little buggers), I've been enjoying myself.
Yesterday, Diane, that famed organizer of the Franklin County Fiber Twist, organized a Knit-in-Public Day event on the common in the center of Greenfield, Massachusetts - it was so much fun! Here's Diane, Marcy, both demonstrating their love of having their photo taken, and Lisa and Lisa's friend, whose name I didn't catch. We were the core attendees - several others came and went, and kids especially were fascinated with my spinning wheel.
I'd never met Diane before, so we got to chat about Marbled Salamanders and crazed-naturalist stuff - and she gave me several ounces of fleece off Io, her (mostly) Cormo ewe. Thank you, Diane! Here it is drying after being washed - I love this gray. Diane also gave me a refresher lesson on hand-carding; as soon as the fleece really dries (which will be a while, in this still, humid weather), I'm going to card this and spin it up.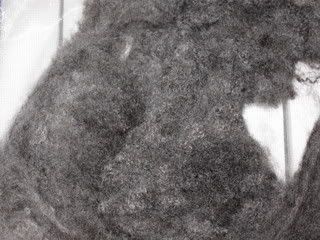 Diane was knitting on gloves for Plimoth Plantation docents out of Harrisville Shetland Style yarn. Those are handsome gloves, aren't they?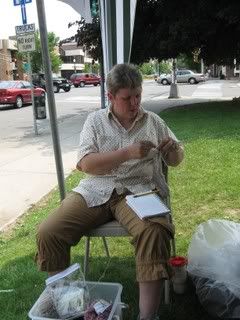 Marcy decided she really needed to examine the gloves in detail right when I wanted to take her picture. I have much the same reaction to cameras, so she's forgiven, for now.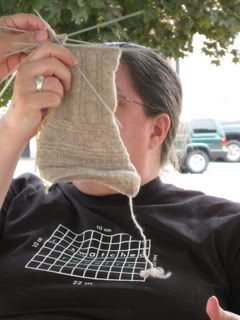 In other news, the other night I spun up an ounce of Falkland top I bought two years ago at the Wool Room in Antrim, New Hampshire, when I was buying a little of every uncommon breed I could find to sample spinning. This was a dream to spin, especially after the coarse springy roving of the brown Border Leicester I've been chipping away at for months now. I aimed for somewhat fine with the Falkland, and parts of it are perfect, as far as I can tell, but the consistency of my single's diameters still needs work. I'm not very patient - it was clear to me I should spin this much more slowly, with more control, but I didn't do that at all. This ounce made a grand total of 58 yards, over an hour or two that evening.

My Sloane Pullover is coming right along - another half-repeat and I'll be starting the ribbing.
Those of you paying attention will note that I am already working on my spinning skills list for SOAR (not Abby's list, at all, it's my list for myself; Abby seems to think we should have fun in her class, silly woman, rather than improving ourselves). I have now spun Falkland, Shetland, and Border Leicester cross in the past few weeks, and I have Cormo to hand-card. I spent maybe three hours yesterday spinning the brown Border Leicester at the KIP event, producing a grand total of a half-bobbin. I'm making progress.
And since, clearly [snort!], I'll get everything on my list crossed off well before SOAR, I give you today my list of projects to finish before SOAR and Rhinebeck. As you know, it is tradition to knit something new to wear to Rhinebeck. I plan on being there for Saturday and Sunday, so I'll need two new FOs to wear - I'm planning on the Sloane Pullover and my long-ignored Celtic Dreams. Of course, I'm also VERY tempted to take Lynne Vogel's Color for Spinning workshop at Rhinebeck on the Thursday and Friday before the festival itself, but even if I do take that class, I think I'll just restrain myself to finishing Sloane and Celtic Dream.
Now, for SOAR, I'll need a little something to wear, too...or maybe a few little somethings. It is a week-long event, you know. Oh, hell, here's the whole list, just laugh at me now and get it over with:
1. Finish Sloane.
2. Finish Celtic Dreams.
3. Finish a pair of socks (just one pair of plain socks, any socks).
4. Finish the shawl from my handspun (anybody remember this?).
5. Finish Boo, Too (I washed my swatch and the gauge is pretty damned close; a little math is needed and then I'll cast on for the body).
6. Knit a small (less than 500 yards or so) shawlette or scarf.
7. Weave a shawl or scarf (I'm thinking of using what I spin from the various sheep breeds).
8. Finish spinning the brown Border Leicester fleece, just to Get It Done.
9. Design something and make it.
10. Try making a little money from all this fiber obsession, to offset my fiber expenditures.
There. I have two lists of 10 items each to complete before October. I am certifiably nutso, aren't I?