Look what I picked from my garden! My first broccoli, my first lettuce!
I don't know why the broccoli is so small - maybe the heat caused it to start bolting before the heads were very big? Anyhow, there's only so much broccoli we can eat at a time, so perhaps it's for the best. I left the plants in the hopes of getting side shoots later in the season.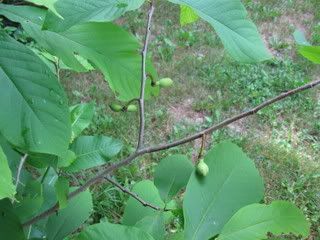 And there are little pawpaws on the pawpaw tree!
I bet not many of you can say that, eh?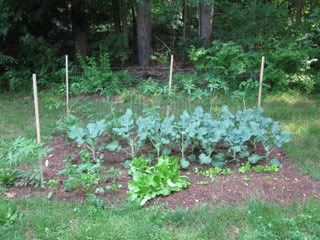 Here's the whole garden - I just staked up the tomatoes last night and I bought some more basil to replace the plants the slugs got to.

And isn't this a nice line-up of clean, straight, ready-to-go yarn? I found one more WIP that needed frogging after yesterday's post; it's the blue yarn on the left. I was knitting it on too-big needles and the fabric was just sleazy. It actually feels good to have frogged these projects - I have admitted my mistakes and I am ready to move on.


Speaking of moving on, here's the beginnings of my Swallowtail Shawl in the Great Adirondack Sirino yarn. Love it! Aside from a small, er, mistake a few rows back that shall be corrected pronto (and yes, I promise to stop believing in my own perfection and to put in a lifeline when I start again), this is lovely summer knitting.
My friend Jen heard I was going through a cranky spell and sent me this necklace she made to cheer me up. I love the fact she based the design on the back of a beetle! I don't think Jen has an Etsy shop yet, but I'm going to encourage her to open one - the world needs more crazed-naturalist/creative types, as far as I'm concerned.
Speaking of cranky spells, I'm taking a vacation. I'm taking at least the last two weeks of July off and I'm going nowhere in particular
-
I'm just going to hang out, rest up, and regain some sense of reality, such as it is. Long walks, good food, no alarm clocks.... Of course, there may be trips to yarn shops (the Elegant Ewe and Fiber Studio in New Hampshire are calling my name) and a trip to the Cape with my friend Nancy and lots of visits to SnBs, I hope, and oh! Did I tell you? I'm taking Barb Parry's series of spinning workshops at WEBS in July - woot! Anybody else going? For that matter, anybody wanna come spin on my back porch while I'm on vacation? I'd love the company! And if you have any suggestions of shops/classes/SnBs/etc. that I oughtn't to miss, shoot 'em to me - I intend to have fun, fun, and more fun. I may even cast on for yet another ten or twelve new projects, just for the thrill of new beginnings.