All the snow recently has had a deleterious effect on my gloves. Apparently, the set screw on the handle of the snow shovel has been wearing away at the fingers of these gloves. I bought the gloves at Rhinebeck the fall before last, and I've already darned or duplicate-stitched two holes in the finger tips. This past weekend was the last straw.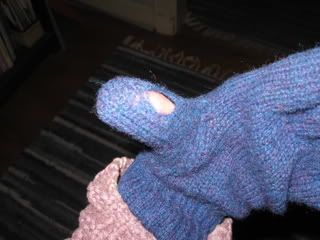 Monday night I finished frogging and putting away the first attempt at new mittens, and then commenced anew. A couple of months ago, I made myself a Canadian-Winter Hat from this yarn, and now I'm holding three strands of it together for the mittens. I'd tell you what the yarn is, but the labels have disappeared. It's a very softly spun single plied with a think black nylon binder thread. I believe I held two strands together for the hat (I'm too lazy to go get the hat to check). Holding three strands together gives a good, firm fabric - not so firm I can barely stand to knit it, as with the first try at this pattern, but firm enough to protect the yarn from too much wear (I hope) and to protect me from the ravages of bitter winter wind.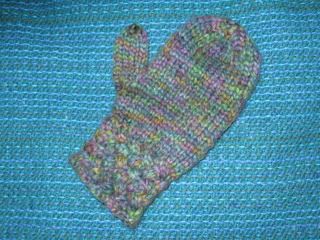 The first mitten is complete. It fits. I like it a lot. It may be the first mitten I have ever knit, not being a big mitten fan up till now. I've weighed it and the remaining yarn and I have enough to knit mitten #2; I was a little concerned I might run out. So, perhaps by Sunday night I'll have a pair of mittens to match my hat. Sam would approve.
Of course, the winter coat this hat and mitten set complements is beginning to look quite tired. I predict that by next winter, I'll have a lovely set of hat and mittens, which will not go with any winter coat in my size in any store within 100 miles - what do you want to bet?