But first, some of those details later...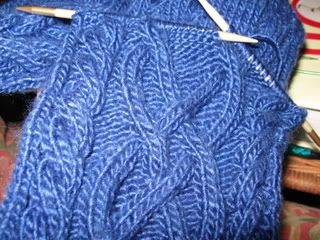 Here we have a lovely cabled scarf, about two-thirds done depending whether I want to stop at 6 repeats or go for 12 (for which I think I'll need another ball of yarn). This is Lisa Lloyd's pattern Tilly from her great book, A Fine Fleece. The yarn is Louisa Harding Grace-Silk & Wool, a scrumptious half-silk, half-merino yarn, bought at 40% off at my LYS's holiday Midnight Madness sale. Alas, it's a relatively softly spun single, so I think it might pill. That's why I went for a cabled scarf; I'm hoping for less wear and for the cables to hold everything together. We'll see. There was no way I was resisting such a blue, however.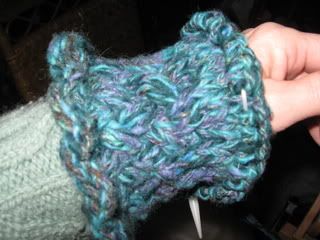 I was inspired by Laurie's mittens to try a pair for myself. I figured I could hold three skinny yarns together and end up with an interesting bulky to match the required gauge, not to mention a quick knit. Well, yes, I could get gauge, after frogging it once after trying to knit this in the round, because I could not wrap my head around mittens that start out being knitted flat and then are joined after the cuff. What you see is the not-yet-sewn-up knit-flat cuff. But the resulting fabric is very, very stiff, and I think I'm going to frog this all together and try with different yarns and only two of them.
So much for a fast knit.

I've been spinning! ... as you might imagine from my last post. [I should get a new wheel more often; I think I got more comments on that post than any other I've written.]
The new wheel, she goes good, and she's slowly bringing me into compliance with her wishes. I am simply fascinated with this groove in the flyer - see how the yarn fits exactly? Decades of spinning fine yarn have worn that groove. There's one on the other side of the flyer, too (double my delight!) and even grooves on the inside of the flyer arms, where apparently the yarn was laced for easing production of very, very fine yarn.
Speaking of fine yarn ... OK, I get the spindle love now. This is a 0.7-ounce Greensleeves Loki with some Spunky BFL. This is the same BFL that was driving me up the wall when I was trying to spin it on a Golding spindle. Apparently, the fiber prefers the Greensleeves.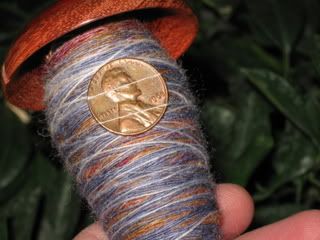 Finally, a three-day, mostly snowy weekend has driven me back to my loom. I've been procrastinating for months about weaving the scarf warp I dyed in a Sara Lamb workshop at SOAR, but yesterday afternoon I dusted off (literally!) the floor loom and warped her up with no problems.
Except I chose the wrong sett. This scarf is supposed to be warp-faced, meaning none of the weft should show. Do you see that thin blue thread? Yeah, me, too. It's not supposed to show at all. (That big white weft is toilet paper; you use it at the very beginning of a warp to spread out the warp threads evenly.) So, I have to resley the reed to a closer sett, probably twice as close as I have it now. Not a big deal, and I'm actually very happy to be weaving again.
In fact, I've just been wandering from loom to wheel to spindle to other wheel to knitting to frogging to spinning again, with occasional stops to make tea and see what birds are at the feeders. It's a lovely way to spend a weekend.