Back on the 11th of November, when I totaled up all those WIPs hiding in the corners of this house, there were sixteen of the little darlings. As part of my overall stash reduction plan, I vowed to finish six of these by the end of 2007, about 1/5 of the total.

I am very pleased to tell you that in the past two weeks, I have achieved 50% of my goal. And a good thing, too, since those three items happen to be targeted as Christmas presents for this year, 2006.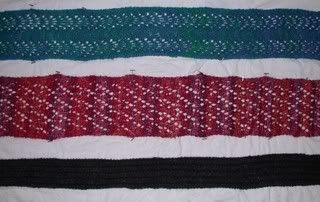 So, without further ado, may I present Finished Objects #1 and #2: two handspun scarves, plus the dark handspun mistake rib scarf I had already finished for my brother's present. They're all blocking here and all lying nicely flat, too.
The red one is for my friend Pat, who had better not be reading this blog. This is my handspun, knitted up in the little lace pattern Jillian Moreno used for her handspun hat pattern, Madge.

The blue/green one is my handspun plied with Zephyr, in the classic feather and fan lace pattern, a present for my mom (who doesn't even know I have a blog, I think).

FO #3: Earle's hat, a present for Christmas, which I forgot to take a photo of and, since he's right here, I can't go take a pic now. A basic hat, of my handspun natural light gray wool pencil roving. If this doesn't keep him warm, he'd better move south.

And what of the other 13 WIPs? Well, next I have wisely decided to finish up those three projects which still interest me and which are fairly far along. I'll spare you the photos and detailed descriptions for now; this list is mostly for my own reminding.

WIP #4: A lacy, cabled scarf, about 1/3 done.
WIP #5: The diagonal-striped-block afghan/rug, about 1/3 complete. I was going to felt this into a rug, but I don't like how the illusion of over-and-under weaving is or, more precisely, is not showing up, so I think I'll finish this as an afghan and donate it to Afghans for Afghans.
WIP #6: Voodoo Wrist Warmers, about 1/2 done. One of these is completed, but if I remember correctly, I want to lengthen the cuff on these, so perhaps a certain amount of frogging is in order. Nonetheless, I need these - it's finally getting cold out!

And the rest? Well, here's a brief list, in no particular order:

WIP #7: A blue boucle dolman jacket, about 25% complete.
WIP #8: Lizard Ridge Afghan, 3 blocks done.
WIP #9: Liam's baby blanket, about 1/2 done. Liam is now 5, I think.
WIP #10: Noro cardigan. I made the wrong size, damn it. This needs frogging and redoing.
WIP #11: Ostrich Plume stole, about 10% complete.
WIP #12: A purple summer shell, with a little lace. Maybe 10% complete.
WIP #13: Pearl Buck Swing Jacket, about 10% complete. (I'm beginning to see a pattern here.)
WIP #14: A long-sleeved cotton sweater, about 1/3 done.
WIP #15: Basic socks, about 25% complete. Alas, these are a little big, so I need to frog and start again.
WIP #16: Clapotis, in bamboo, about 10% complete.

In other news, I went to visit my friend Sue in Northampton today. We decided to go for a walk in the beautiful sunshine and, oddly enough, we ended up at WEBS - fancy that! And I must confess that I, um, somehow, er, ended up with not only the new Victorian Lace Today book, but also with a little bit of roving. Ahem. Just 8 ounces, of the same wonderful Louet multi-colored wool top I blogged about a couple of posts ago, but this time in a scrumptious deep red and blue colorway. And I don't feel guilty at all about the book, I never said I was going to hold the line on acquiring any more books and patterns and such. Which may explain why I ended up buying two books at Emily's 30%-off-all-books sale yesterday - Knitting in the Old Way and The Opinionated Knitter: Elizabeth Zimmermann, Newsletters 1958-1968. Plus a Sirdar pamphlet of cabled fishermen sweaters; I have the urge to cable.
Sue also agreed to relieve me of a number of the yarns and books I'm giving away, but fear not - all of you who have written me with requests are getting exactly what you asked for; I just haven't gotten around to writing you back yet. I will, I will, I promise, soon!