Tuesday night this week the spinning group met at WEBS. I had nothing on the wheel and nothing in particular lined up, having virtuously spun up all the yarn for my Christmas knitting, I'll have you know. So I grabbed this brilliant, vibrant roving, which I had bought at Rhinebeck from
Susan's Fiber Shop
. That's 8 ounces of 100% wool top, in the Northern Lights colorway, from Louet. If you want some, it's on sale now at Susan's (figures). This is quite a thin roving, now as thin as pencil roving, but not as thick as most roving I've seen. It was about 3/4 of an inch thick.
As I spun up this vibrancy, it softened and calmed into something really lovely. I filled this bobbin today and, while I was tempted to ply it with something commercial with nylon in it, to make a sock yarn, I don't think I want to knit this into socks. In fact, hardly ever in my life do I want to knit socks. So, I'm thinking of spinning some deep teal Corriedale roving from Louet, which I believe I bought at the Wool Room in Antrim, New Hampshire, this summer, and seeing how well the multi-colored single above melds with a solid teal single. Stay tuned to see what really happens.


In the all-important Christmas knitting news, I finished the merino/silk mistake rib scarf for my brother. I got to about 65 inches long, before blocking, and while I have more yarn, I don't have the motivation to go further. Instead, I cast on for the scarf above, destined to be a Christmas present for my friend Pat. Did I show you this yarn before? I don't remember. Anyhow, it's a Grafton Fibers batt plied with Corriedale from the Sheep Shed. The scarf pattern is the lace repeat from Jillian Moreno's
Madge
hat, in Knittyspin. I am so inspired by this scarf! I love the way the simple diagonal lace pattern interacts with the texture and colors of the yarn. I'm even thrilled by the way the lace contrasts with the garter-stitch edging. I'm thinking seriously that something like this would make a great jacket front. Maybe after Christmas....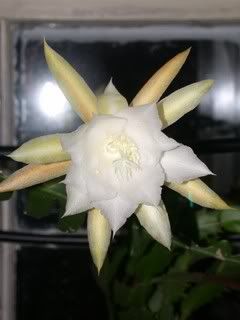 Finally, here's a local celebrity - see all those flashbulbs going off in the background? This is the first flower I've had on an orchid cactus, Epiphyllum angulare, that I bought about two years ago. It is - was - about five inches across, on an eight-inch-long bud stalk. Extraordinary! What a fragrance, too! Alas, the flowers only last two days and there aren't any more buds coming along. I bet it won't flower again till next fall. I suppose we knitters are good at dealing with delayed gratification, though, aren't we?