It's Thanksgiving morning, American Thanksgiving that is, and I'm up relatively early, not because I have to bake three pies or clean the entire house before the family comes over or finish knitting the tablecloth in time for turkey gravy and red wine to be spilled on it. Nope, I'm up early because I'm not sleeping well these days and I wanted a cup of tea to settle my tummy. I think the dust mites are gathering in unheard-of numbers in my bedroom, such that when I'm tired and go to bed, my body starts screaming, "Get out of here! You're allergic, remember?" So, I don't sleep well at all. Earle, bless him, cleaned the house yesterday while I was at work (well, maybe not the bedroom all that well), and no one's coming for dinner, I'm only baking one pie, and I'm not that crazy as to attempt a knitted tablecloth. Not this year, at any rate.
Where was I? Not getting enough sleep does that to me. Oh, yes - American Thanksgiving! Under the heading Things I am Thankful For comes the realization that getting as absorbed in knitting and spinning as I have in the past couple years has opened my narrowly focused eyes to the wide, wide world. The fact that Canadians celebrate Thanksgiving on a different day than Americans do. I knew that before, but now it's part of my at-the-forefront thought.
Likewise, I've learned enormous amounts about different breeds of sheep and what librarians really do and how people cope with tragedy in their lives and what different knitters consider a suitable stash and so on and so forth. If I were truly awake, I'd be more eloquent about all this, I hope.
So today I'm celebrating the joy and fun that knitters, of all stripes, have given me - I'm not talking about teaching me to spin or creating nifty patterns or steering me to good sales here, I'm talking about enjoying knitters as people. You are a wonderful bunch. Keep up the good work out there, around the globe.
In gratitude, I'm giving away to you, my loyal readers, such components of my stash as I can bear to part with. For you guys, I will sacrifice. Leave me a comment with what you want and your snail mail address (or email me your address at harperlynn At msn Dot com, if you're uncomfortable with posting your address, which is understandable) and I'll send the stuff to you as soon as I can get organized. First come, first served, except I'd like to spread this stuff around as far as possible, so probably just one type of yarn to a person. We'll see how it all works out.
Giving this away is no sacrifice, however. Here we have a cone of ecru 10/4 cotton, about two pounds, from WEBS, no doubt. It's about sport weight, 2800 yards per pound, so a total of around 5600 yards. I have no idea why I have this, and you can share in that thought if you only ask. Maybe you could knit your very own lacy tablecloth in time for next Thanksgiving. Maybe several tablecloths, in fact.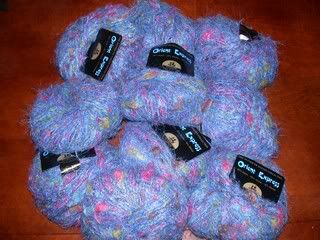 Then we have 10 balls of intensely blue mohair-y yarn, Plymouth's Orient Express. Twelve stitches to 4 inches, nylon/acrylic/mohair, a total of 530 yards. Any takers?


Here are 4 balls of ribbon yarn, by the name of Casablanca. A total of 440 yards, at 22 stitches to 4 inches. Goes nicely with the Orient Express - anybody want a poncho for a nine-year-old girl?

We Interrupt This Program to Bring You the Following Important Message: Earle has awoken. In fact, he is singing, "Happy, happy turkey day, happy, happy turkey day, happy happy..." etc., etc., and is, in fact, beginning to sound remarkably like a turkey gobbling himself. This is my cue to go get dressed; we're going to the local coffee shop - The Daily Grind, really, that's its name - for breakfast. Your Regularly Scheduled Program will resume later today, in among pie-baking and spinach-washing and turkey-staffing activities. Stay tuned.

.....


OK, we're back. Breakfast has been consumed, the turkey has been stuffed and is beginning to roast, and Athol High is up 24-13 over their arch-rivals, Mahar Regional, in the third quarter of the annual Thanksgiving High school football game next door. All is quiet, at least until I have to bake a pie and such. Therefore, onward with the yarn dispensation!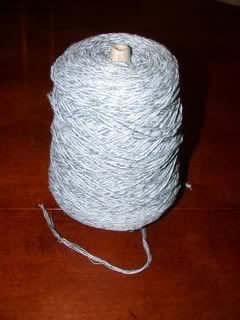 Here is one of the mysteries of my stash: a one-pound-plus cone of pale blue-green yarn, something non-wool, a blend of maybe, I don't know, silk/linen/rayon, something like that. Maybe sport weight. One of you needs this desperately.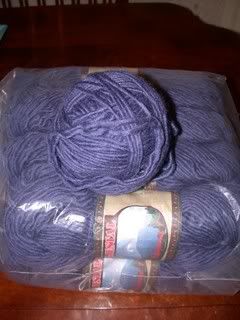 And here is a real prize - 11 balls of navy blue Gjestal Naturgarn No. 1, all wool, 13 stitches/4 inches, a total of 1331 yards. You could really make something from this - a heavy winter sweater for you, two or three kids' sweaters, maybe a throw?


Anybody remember my Sunrise Circle Jacket? Here we have about 2.5 balls of leftover Katia Mexico, wool/acrylic, 17 stitches/4 inches, about 250 yards total, nice stuff . I wear the jacket quite a lot. You know, if I were organized, I would have made myself a matching hat out of this, but I didn't, so you can.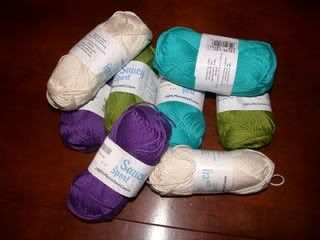 Anybody like knitting with cotton? (Bitterknitter, are you out there somewhere?) I have no memory whatsoever of why I have two balls each of four colors of Saucy Sport, all cotton, 24 stitches/4 inches, 246 yards of each, a total of 984 yards.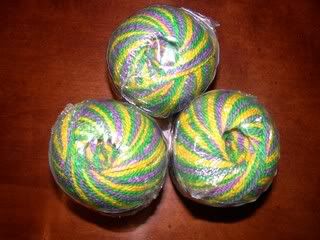 Cotton socks anyone? Here we have three balls of Cascade Fixation, cotton/elastic, 25-29 stitches/4 inches, a total of 558 yards. Yellow/purple/green - wake up your sock drawer with these!


More cotton: Filatura di Crosa Dolce Amore (I think it's Amore; every label has the price sticker over the name). Two colorways - six balls of multi-color pastels and five of white with pastel dots. These two colors go well together. Alas, this is not machine washable, or we'd have the makings of a great baby blanket here. 28 stitches to 4 inches, 198 yards per ball, or 1188 of the darker stuff and 990 of the lighter color.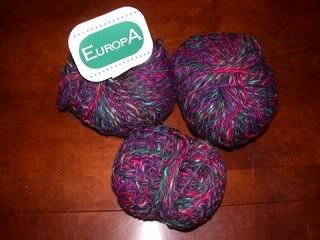 Two-and-a-half balls or so of Berroco Europa. I knit myself a sweater from this, that I'm wearing it today. Wool/cotton, 20 stitches/4 inches, a total of about 338 yards.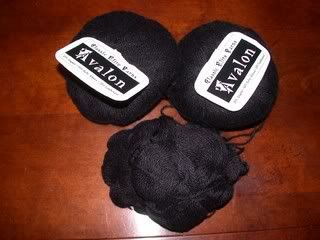 Soft, soft, soft. Classic Elite Avalon, black, obviously. Angora/baby alpaca/lambswool, 20 stitches/4 inches, about 412 yards total. Winter scarf for your mom, maybe?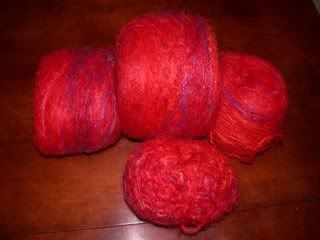 Red, red, red! Mohair - not a solid red, but with some stripes of red-purple, too. Lots of this, but I don't know how much - I'd guess enough for an adult woman's medium sweater, since that's what I started knitting from this. One ball is frogged and rewound, but I did not wash this to get rid of the kinks. (I kinda like the kinks, actually).

A grand total of 12,621 yards to give away, plus a couple pounds of red mohair and pale blue mystery yarn. This makes me feel good - that's more than 10% of the known yardage under this roof. Books! I have three books to give away, too.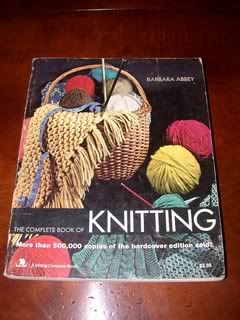 Barbara Abbey's The Complete Book of Knitting. Somehow, I have two copies.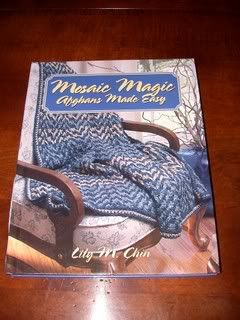 Lily Chin's Mosaic Magic: Afghans Made Easy.


Nicky Epstein's Knitting for Your Home: Afghans, Pillows, and Accents.

Anybody for a little kit for making your own knitting needles? Dowels, sandpaper, polymer clay and instructions.

And patterns! If you want some subset of these - a certain gauge, say, or only the legwarmers - just ask, and it's yours.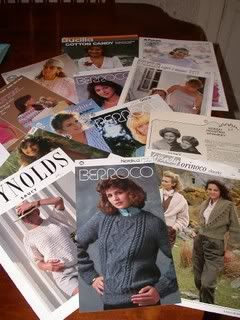 Patterns for adult women.


Patterns for little kids.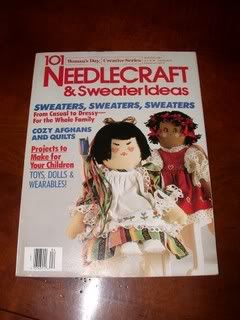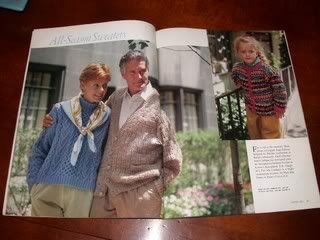 Woman's Day 101 Needlecraft & Sweater Ideas, Winter, 1991. A number of nice patterns in this.


Finally, a treasure trove of patterns from the 1970s and 1980s - you need these! How can you pass this up? The 80s are in again! These were given to me by a non-knitting friend. His mother had died and left him, among other belongings, these patterns, so he gave them to me.

Well, look - it's time to go baste the turkey. Help me redistribute all this wealth, send me a note, and there'll be a present in the mail for you soon. Happy Thanksgiving, everyone!