You may remember that I signed off a week or so ago with the promise that I would be adding my 2007 resolutions to the sidebar. Obviously that hasn't happened yet, because of all the other events this week that got in the way, namely:
my phone line going dead last weekend;

a minor car accident Monday morning;

various night meetings; and

Earle's struggles, over several days, to install DSL on my computer.
A lovely week it was, capped off by utterly lousy weather this weekend - gray, drizzly, just above freezing. Anyhow, here I am again, promising once more to add those resolutions just to our right here. Maybe tomorrow, if I have the inner fortitude.
In the meantime, I discovered just how much I can get done without the Internet to distract me. I read a good book, Peter Hessler's River Town, a fascinating tale of Hessler's two years in the Peace Corps, teaching literature in a small city on the Yangtze in China. It had nothing to do with knitting and yet I loved it. Furthermore, I'm two-thirds of the way through Memoirs of a Geisha, a stunning novel by Arthur Golden. And thank you, Cathy and Emily, for your reading recommendatiuons; I'll check those out. Interestingly, I've already read Number One Ladies' Detective Agency; my mother gave it to me last year, saying she enjoyed it immensely.
And I've finished the body of the shell I started on Christmas Eve. You may wonder why I say I finished the body of the shell, no doubt thinking to yourself, aren't shells all body and no sleeves? You would be right, of course, except I was debating all along whether I would leave this sleeveless or not. I decided to wait to try it on before making the sleevedness choice.
To review, here's an earlier pic with the right color.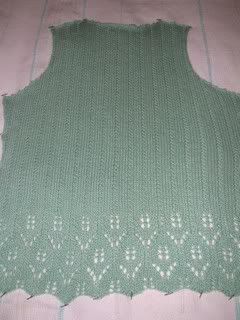 And here's a bad photo of me wearing the shell. You'd get a better photograph, except as you will remember, the weather's lousy, so no sun, plus Earle's feeling pretty lousy himself, so I didn't want to ask him to take a photo.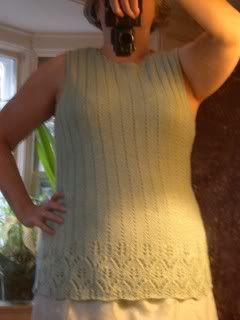 I love this yarn, Berger du Nord's Charmant, a silk/wool blend. This knits up beautifully, changing gauge just a little when washed and blocked (which I remembered to do to the gauge swatch, by some miracle). Even better, I got this on 40%-off sale! I love this pattern, the shell from Joan Forgione's Thorn and Thistle Twinset in the Summer 2006 Interweave Knits. However, I don't love this shell on me. I was foolish enough to try this one as soon as I finished the crocheted picot edging around the neck. Over the jeans I had on, it looked like crap on me. More precisely, it magnified all my oddly bumpy plumpness, being lovely, drapey fabric.
I tell you, there's nothing like having something one has just finished look like crap on oneself to thoroughly discourage one from ever being in a good mood again. And did I mention that it's gray and raw here as well? Thus, I consulted my sage advisors at the Knittyboard, who offered chocolate to sooth my troubled psyche, recommended the use of appropriate undergarments, and counseled adding sleeves. I added in a short visit to Webs to that list. The photo above shows me wearing appropriate undergarments and sucking in my tummy. I think that, with sleeves (probably 3/4-length) and maybe a short cardigan (gee, it was designed as a twinset, you know), this might be OK on me.
In other knitting news, I've been plugging away on a simple shawl, design from Victorian Lace Today, out of my handspun. This is maybe one-third done, plus there will be a border, so I have my mindless work cut out for me. Exactly what I need right now, with the addition of chocolate, of course.