What does that look like to you? Yup, that's what happens when knitters gather together. Our dear Emily of my LYS, Emily's Needleworks, hosted a party for a bunch of us hard-core addicts this past weekend. We came, we ate, we knit, we ate, we laughed, we ate, we knit some more, we ate till I couldn't stand it any more.
And we dyed yarn. Emily had ordered each of us one of Louet's pre-packaged sock-dyeing kits. Each kit has three 50-gram skeins of Gems Merino (enough for a pair of socks, instructions for which are included), three different shades of a base color (red, blue, green, pink, or brown), a squirt bottle, wool wash, and instructions. Basically, you soak the yarn, mix up the dyes one at a time, squirt them on the yarn, package the dyed yarn up in plastic wrap and freezer bags, nuke them for four minutes on a side, hang to dry, and wash out the excess the next day. Very simple. My only complaint was that three of the 15 kits were missing something. One kit was missing all three dyes, one had a duplicate of one shade, and I forget what was wrong with the third. So, if you try this at home, check your kit as soon as you get it. You can betcha that Emily is having a nice chat with Louet pronto.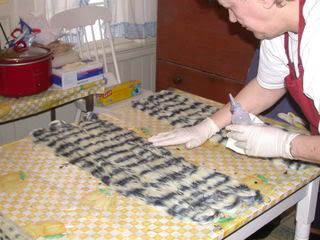 Here are blue skeins:
And green skeins, much more varied: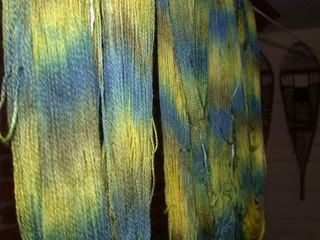 Emily and I shared two kits, one blue and one red. Here's the front of my three skeins: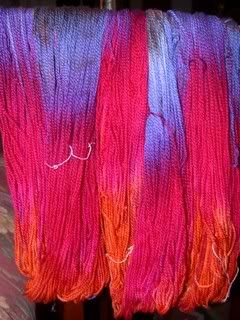 And the back side. I like it. I like it a lot. I may just have to take up dyeing, among my other fiber obsessions.

I almost finished my gloves...
The Lamb's Pride blanket has tripled in size, too, but it's at a stage where it's hard to photograph. You'll just have to wait. I have sock yarn to knit up.