Well, I had a lovely, long, witty post for you, but then my computer froze up and everything refused to work for an hour or so. Frigging computer. I promise to get it fixed this week, even if it involves a sledgehammer. I'm eating jellybeans now (11:03 AM) to ward off further problems – what, you don't know about the medicinal properties of jellybeans? I find them quite helpful in dispelling the terminal grumpies.

So, where were we? Pardon my brevity, but I've already written about this in greater detail this morning and I'll be damned if I'll recreate that now-etherized post.

Two weekends ago, Sue and I went to SPA in Portland, Maine. We had a blast. We stayed with Sue's brother, Chris, and his wife, Elaine, both of whom knit, as evidenced below.

I wish I had more photos of Elaine's projects; she must have six or seven going at once.


Why, yes, that IS a Red Heart afghan Chris is so near to finishing up. We gave him permission to use the good stuff next. Of course, maybe it just runs in the family; here's Sue knitting a poncho. She said it was for her six-year-old niece. We all pretended to believe her.


Sue using her brother for the traditional purpose, below, at SPA. Note the very manly (i.e., drab, yet tasteful) sock that Chris is knitting.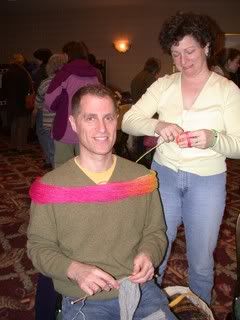 We ate, we drank, we bought yarn, we knit, we watched movies, we drank some more, we knit some more. A perfect weekend. As proof, I'll show you this Finished Object, the first one, I believe, of 2007.


Knit of two balls of Louisa Harding Impression (the lovely frothy mohair/nylon confection) and one ball of Louisa Harding Kimono Ribbon (nasty nylon ribbon; I hated every squeaky, teeth-gritting moment of knitting this stuff), this scarf ended up being a tad over eight feet long. I was aiming for six feet when I cast on the long way, but, hey, I didn't count the stitches, this was just supposed to be a fun, frilly, bright, cheerful, mindless knit for the dregs of mid-winter. It has three inches of garter stitch in random stripes of Impression and Kimono Ribbon, then a row of increasing in every other stitch, followed by a row of increasing in every stitch, followed by a half-inch or so of more garter, finished off by using the crochet cast-off from both ends towards the middle of the edge, where I had ran out of yarn. Fun, bright, cheerful, all right, but also, this doesn't really work with any of my winter coats, the ribbon yarn is scratchy on my neck, and the knitting seemed to drag on forever. I'd guess that by the end, I was casting off around a thousand stitches in that last row. What I learned from this FO: Knit what is really worth knitting; don't waste your time on projects that aren't pleasing you.

You may remember my Celtic Dreams sweater, the one I vowed to finish before SPA. Well, I haven't touched it since my last post, but I promise, assuming the computer toads let me post this note, to get back to it today.

In the meantime, I've been spinning up this yarn.


About 880 yards of worsted weight, this is a two-ply yarn – one ply is my handspun from a mystery braid I bought from Susan's Fiber Shop at Rhinebeck last year (probably domestic wool, hand-dyed, 8 ounces); the other ply is four solid colors of Paton's Kroy sock yarn, 85% wool 15% nylon, that was cluttering up my stash. Aren't you proud of me for reducing my stashes of yarn and fiber at the same time? I worry that the darker skein is less tightly plied than the lighter skein, but I'll cope, I'm sure.
I'm hoping to pair this with the three skeins below of Araucania Magallanes to make Jillian Moreno's Boo, Too, from Knitty. I saw Jillian wearing this, or something very like it, at Rhinebeck last year and I've been coveting it ever since.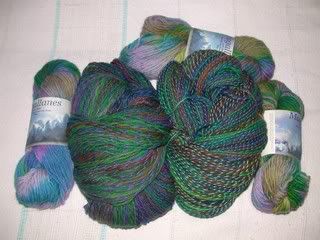 Finally, I had another inspiration for reducing my yarn stash. I have 15 or so skeins of left-over Lamb's Pride Worsted in several colors, most of which I have absolutely no memory of buying. It occurred to me that I could knit up this jumble into a Mason-Dixon Moderne Log Cabin blanket; here's my progress thus far, with the remaining skeins close to hand.


I doubt if I'll be able to use up all the gold and red in this tending-towards-cool-colors spread, but I've set myself the challenge of using up all the rest of this yarn in this project. Earle has already been admiring it, so maybe he'll get it for his birthday in late May. I must say, I really love knitting with Lamb's Pride Worsted; it just slips through my fingers like butter and the texture of it made into garter is both substantial and nicely drapy. There's a reason why this yarn has been around forever.

Oh! One more thing: Only eight fingers/thumbs to go….