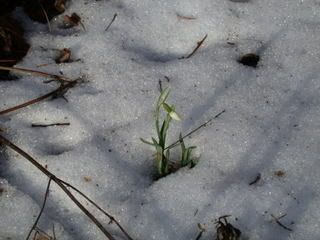 OK, now I believe it's really spring. Whew!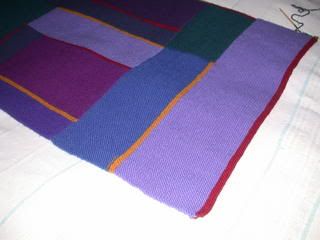 A week's worth of knitting has netted me a little more Moderne Log Cabin blanket. We're up to 28 inches by 44.5 inches. Some of you may remember it was 30 x 39 last week; this time I guarantee an accurate measurement. This is getting to be a heavy sucker to move around every time I need to start a new row.


Look, it's a sock cuff! And look how nicely my hand-dyed yarn is spiraling around and around. It even fits! I might just be hooked on sock-knitting. Or on dyeing. Or itty-bitty needles. Or something.


Finally, here we have a hat and a quarter, knit with elann's Sierra Aran wool/alpaca yarn, using Sally Melville's Canadian-Winter Hat pattern from her book, The Purl Stitch. I have four balls of this green in my stash, which I think will be enough for three such hats. Why am I knitting three matching very warm hats, just as spring arrives? Well, on May 30th, the Yarn Harlot is coming to WEBS, on tour to promote her newest book, Stephanie Pearl-McPhee Casts Off. I intend to be there, of course! (And if you want to go, you have to go tell WEBS here that you're coming. And then you have to tell me, so we can meet up and be groupies together.) She is soliciting hats for the homeless as part of her tour; I have sworn to knit five hats for charity this year. Thus, I am knitting madly away on very warm, very green, very Canadian hats.
Oh, and I may have bought ten balls of Hempathy in blue, with which to make Norah Gaughan's Lacy Waves Top (scroll down a bit) from the book, Lace Style. I can't imagine how that happened.
It's been a busy week.