Well, lookee here, it's a sock!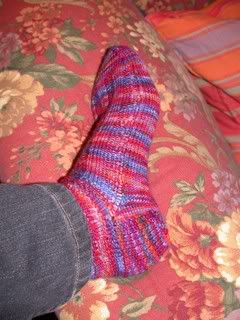 And it's a beautiful sock. Admire that heel.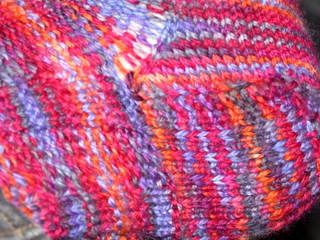 Cast your eyes over the stripy sole.

Nice, huh? I think so. I could do without the purl line every 5 rows on the calf (in fact, once I got past the heel, I forgot to do it; definitely a design feature), and I wish the calf section were a little longer, but nonetheless, I like it. And since it took less than 50 grams of the 150 grams of merino I dyed, I guess I could knit three of these, if I really wanted.
Naw, I'll knit just a pair. But then I think I'll find some nifty merino/nylon dark blue combo and knit me a pair of two-tone socks with the leftovers - you know, with the toes and heels in sturdy dark blue, and the rest in gaudy stripes. Maybe even knit them from the toe up, so I can use every last bit of this jazzy yarn. Plus, that way I can skip the Kitchenering at the toe. I Kitchenered all right, but I have the distinct impression that while my threaded needle was going in and out of stitches in the right direction, in the right order, and that all will hold together, still I have my doubts about where the yarn was going between the stitches. I'll go look at some more instructions and see if I can figure it out by Sock #2.

By the way, how come this sock looks so good on my foot, and so completely badly proportioned off? Doesn't that foot look way too long to you?