As you will remember, there are four pregnancies amongst my friends right now (so many, I had to stop and count them on my fingers - really, I did!), with five babies expected before the end of the year. Currently, I have a grand total of one baby item finished - and I'm happy to report that after washing, the Blooming Baby Bonnet softened up, stretched out, and is now suitable for newborn baby skin.
So, Chloe's baby - check! One down...
Four babies to go - Gak!
A triple baby shower, for Chloe, Melissa, and Tara, has just been scheduled for August 10th. I found out the date of the shower a day and a half ago, on July 18th. Thus, I had 24 days in which to knit three baby items. Luckily, the final baby's not due till December and I can postpone that knitting for a while.
In my usual excessive fashion, I decided to use stash yarn (good for me! but a limited selection, if I wanted machine-washable yarn) and to knit something more demanding than booties. More exciting than hats. I wanted more - something interesting, something that would use up lots of yarn, yet something that might possibly get done in time.
This last issue will be helped considerably by the fact I'm going on vacation next week to
Matinicus Island
off the coast of Maine with my friend Elizabeth. Now, Elizabeth knits, but she just broke her hand, so I expect to be the only knitter in our cottage. At least Elizabeth will be supportive and not demand that I do something 'fun' like lying in the sun getting a tan.
So, I've had to make a few quick pattern and yarn decisions. Here are the facts so far: Melissa is having twins, a boy and a girl. Tara is having a baby of sex-to-be-discovered-at-birth.
You may possibly remember that I have a half-knit baby blanket, started for Melissa's first child, who is now four and a half. Luckily, I have conveniently forgotten this fact, and you would do well not to remind me of it right now, either. You don't even get a picture of it, as it's too hot to dig that deep in the UFO closet.
I do have quite a store of four different colors of
Filatura di Crosa 501
machine-washable, DK-weight yarn, however - five balls of a deep red-violet, four of a nice olive green, one of a nice orange, and a bunch of a lovely lavender.
There's more than sufficient of the lavender to make
Oat Couture's Curlicue Coverlet
, which in fact, I had started some time ago, when I thought I only had one baby to knit for this summer. I had acquired the red-violet and the olive green at a sale at a yarn store; I really liked how the colors went together and I had thought I might be able to squeeze out something cabled and sophisticated for me, like Annie Modesitt's
Bi-Color Cables
. Alas, there's not really enough to make something that would cover me decently, although in poking around to find a link for this pattern, now I see that others found it took
much less yarn
than the pattern called for.
Too bad, because I've already cast on for a little cabled baby sweater for one of the twins, using the red-violet and orange yarns and a pattern from Knitter's, called Classic Cables, by Mary Bonnette and JoLynne Murchland. The pattern is simple: drop sleeves, a placket and button at the back neck, three simple cables up the front and back, seed stitch at the sides and for the sleeves, and an accent color stripe in the bottom, neckband and wrist ribbings. Simple and very nice. The patterns calls for a worsted weight yarn, not the DK weight I have, so I'm using the stitch numbers for the 2-year-old size and aiming for an 18-month size. So far, so good, says Mr. Penguin.
If I can get a sweater out of four balls of the red-violet, then I'll knit the second sweater from the olive green, with lavender as the accent color. If four balls won't do it, then I'll knit a lavender sweater with the green as the accent. That'll mean I won't have enough lavender for the Curlicue Coverlet, but that's OK; now that I see how it's constructed, it's kind of boring to knit in one color.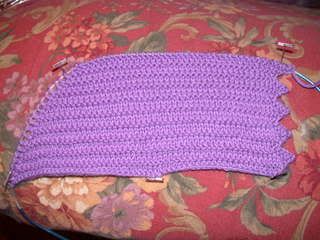 One of these days I might knit that coverlet in a variegated yarn or in several colors, just to hold my interest.
Next, my stash yielded 920 yards of
Classic Elite Spotlight
, a nice machine-washable cotton in pale turquoise, 18 stitches to 4 inches on size 7 needles. Again, I bought this on sale at the LYS one town over, the same place I bought the red-violet and olive green 501, just to boast. This struck me as perfect for a nice baby blanket - preferably something relatively simple and mindless, perfect for knitting on the porch or deck or whatever there is at the cottage in Maine, something I could switch off to from DK-weight cabling and seed stitching. I thought first of the Big Bad Baby Blanket in
Debbie Stoller's Stitch 'n Bitch
. That certainly qualifies as mindless, as it's only four big squares, two of knit, two of purl, bordered by seed stitch. It looks lovely in the variegated Koigu called for in the pattern, but in the plain turquoise I've got, I thought it would be a little plain (and show off baby droolings, etc., entirely too well). So I thought about various Barbara Walker knit/purl patterns, and about undulating columns of knits and purls, constrained by seed stitch on the sides, and about a great big seed-stitch heart centered on a knit background and bordered by yet more seed stitch.
Finally, I decided on a grid of four knit-stitch squares, bordered by swaths of seed stitch, with a single seed-stitch heart of reasonable size in each square. At least, that's the plan so far. We'll see what actually happens; I may get really, really sick of seed stitch (remember the sleeeves and side panels on the two sweaters for the twins). Here's the progress so far on the baby blanket: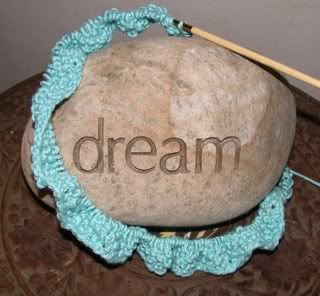 And now, if you'll excuse me, I have a lot of knitting to do!