I want to be there. Perhaps forever.
The harbor on Matinicus Island, Maine.
The house where Elizabeth and I stayed.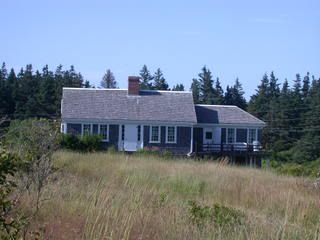 The first full day we were on the island, it was foggy and drizzled a little. Thus, I give you the results of Day One: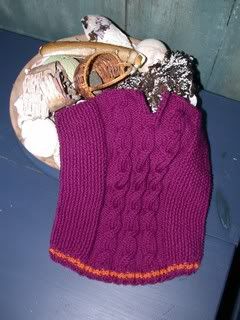 Day Two we went to Matinicus Rock, another 15 minutes of boat ride from Matinicus Island. Matinicus Rock is a nesting site for Atlantic Puffins, Razorbills, Black Guillemots, Common Terns, Common Eiders, and probably a few others I've forgotten - I'm sure you can tell the various species from this photo.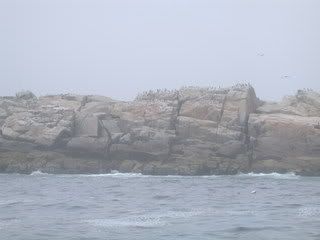 A raft of Razorbills came near our boat.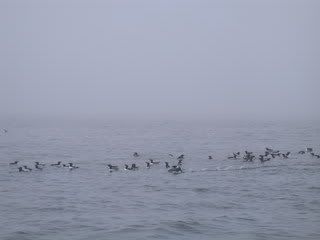 Day Three was hot and sunny. The knitting sunbathed on the deck and admired the view of the meadow.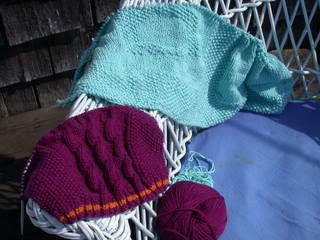 What's that? You don't see seed-stitch hearts on the baby blanket? Well, that's because I changed my mind, again. Here are close-ups of Blocks 3 and 4 on this 4-block blanket - any guesses from the peanut gallery as to what I'm creating?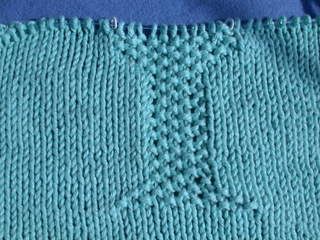 There were roses blooming everywhere - they made the whole island smell lovely.
But alas, Day Four dawned and we left for home. We stopped at Halcyon Yarn in Bath, Maine, on the way, just to ease our heartbreak, but I'm afraid it didn't help all that much.
I still don't want to be here, I want to be there. Perhaps forever.