This Friday evening: the multi-baby baby shower. That's 2 days away.

Progress so far:

Baby #1:
Bonnet complete
.

Baby #2: Blanket is more than half-way. Now can you tell what I'm doing?


Of course, you can't; that's a lousy photo.
Baby #3: All four pieces are completed - the ends are woven in, even. But they're not sewn together, the neck ribbing isn't done, and the button at the back of the neck isn't even bought, much less sewn in.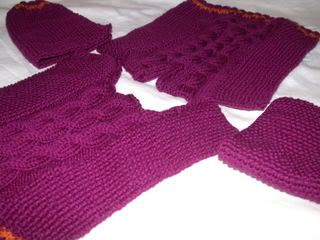 Baby #4: Well....


I'll blame the blurriness of that photo on my shaky hands. (Or my shaky grasp on reality, if you prefer.)
Obviously, I'm not going to be ready for this shower in two days. I'm taking the news well. In fact, since I am sick of knitting constantly whenever I have a free moment, I have given up trying. In the past few days, I have started a new book (Michael Korda's Another Life), weeded the garden of friends who are getting married there in two weeks, gone to the ice cream stand, and skirted a Jacob fleece.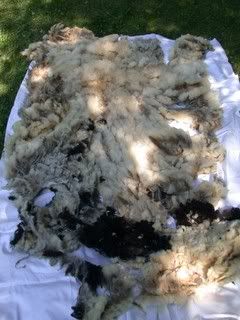 I may actually be returning to normal, but don't hold your breath.