I've had a productive weekend. I washed the Jacob fleece.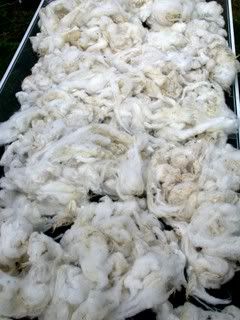 I discarded the black sections of fleece, because there really wasn't much of it. I washed the white fleece three times, and yet it's still kind of yucky in spots. I want to like how to process a fleece from someone who really knows what they're doing, because I have the distinct feeling I'm wasting a lot of time and I won't really get good yarn out of it all. Anybody out there want an apprentice?


I washed my hand-knit socks. My only pair of hand-knit socks. When Sue and I were at WEBS Saturday, she bought
Cat Bordhi's new sock book
to give someone (not me, alas, but it's a surprise for a sock knitter friend). I browsed through it and was fascinated by the new sock 'architectures,' as Ms. Bordhi calls them. Maybe I'll knit some socks this winter.

I got into
Ravelry
- I'm enallagma9 there, too, as I had an attack of anti-creativity when I signed up. I don't have anything posted there yet, and I'm not sure I'll get around to that anyway; I do have a little knitting to do.


I knit a good bit on the green baby sweater, enough to finish the back and do a couple of inches on the front.

I knit four inches or so of the
Minimalist Cardigan
. I really love how this is turning out!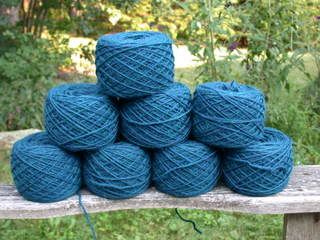 I wound eight balls of
Berroco Ultra Alpaca
in gorgeous, heathery deep teal, for
Silver Belle
.

I cast on for Silver Belle, for the peplum. Four hundred and eighty stitches. This photo is only about 220 stitches. Four hundred and eighty stitches at 5 stitches to the inch is 96 inches worth of peplum! Yowza! The finished bust of the size I'm making is only 40 inches; that's quite a lot of peplum flounce to accommodate, even if it does decrease to 302 inches (60 inches) by the top of the peplum. The peplum is mostly cabling, so it will draw in to less than 96 or 60 inches, but still - does this seem right to you all? I think I'll poke around to other knitters' blogs and to the
KAL
and see if anyone else is having gut-flutters at the thought of all this peplum-age.