Guess what I gave Melissa today?

Yes! Yes, yes, yes! I finished the baby sweaters for her twins, and she hasn't finished growing them yet, so I finished in time! I'd show you a pic of Melissa with the sweaters, but she's shy, so you'll just have to believe me that her twins aren't yet born.

Instead, you get photos of the sweaters. Here's the magenta sweater...


And the olive-green sweater...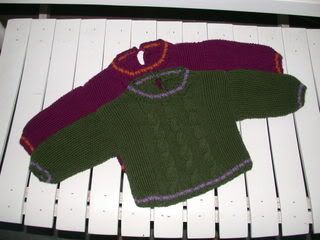 And the neck ribbing...


And the adorable little buttons on the back of the necks....

Here are the specs:
Pattern: Classic Cables, by Mary Bonnette and JoLynne Murchland, from some back issue of Knitter's. I can dig up the date of the issue, if anyone cares. I made the 18-month size.
Yarn: Filatura di Crosa 501, a DK-weight, machine-washable merino wool. Very nice, but just a little splitty.
Needles: Size 5 bamboo circulars.
Started: Somewhere between July 10th and July 19th.
Finished: September 22.
Modifications: The pattern is written for worsted-weight cotton. After a bit of math, I figured out that if I used the stitch counts for the 2-year-old size, that would take care of the width for an 18-month-old in DK-weight. For the height, I just used the measurements for the 18-month size. For the sleeves, I used the 2-year-old numbers for everything and prayed. And then I blocked everything to the size specified in the schematic. To my eye, these sweaters are a little short in length. I also used blanket stitch to stabilize the edges of the back neck placket, instead of the single crochet specified, because I could not crochet to save my life. The splittiness of the yarn did not help my feeble efforts at crochet.
Melissa's response: She loved them!
And I am so glad they're done. Now, I think I'm going to do anything except knit baby items for a while yet. Although I will confess that some ideas for a baby jacket for Jen's baby, due mid-December, are beginning to circulate in my brain. Maybe a Baby Surprise Jacket. Maybe a Baby Einstein Coat. Maybe something a little wild.