Melissa is past the 34-week point with her twins; everybody's happy and healthy. If they start arriving now, the docs aren't going to stop them. And Melissa is looking mighty big. She doesn't think she'll last another week. Thus, I must needs push, push on her baby sweaters. I'll see her next on Tuesday; the sweaters WILL be done by then.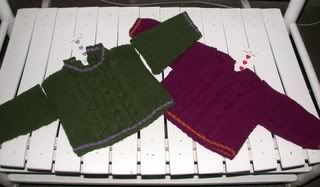 Actually, I'm making good progress. All the big pieces are knit and blocked, so from here it's just seaming, adding the neck ribbing to the magenta sweater, crocheting around the back plackets, crocheting a button loop off the placket, and sewing on the buttons. And blocking, again. It's not that I'm a perfectionist (there are at least two major boo-boos I decided to leave in), but the completed seams are so puffy compared to the lovely overall flatness that I feel I should block everything when they're complete. Plus, the neck ribbing clearly needs blocking.
In other news, I'm going to Rhinebeck! With six of my fiber friends, no less (none of whom blog, oddly). We're staying in two cabins at the Mills-Norrie State Park for Friday and Saturday night. I can't wait! I'm already making a list of what I want to buy (gray fleece, two more bobbins, Janet Szabo's Aran design book, etc.) and I'm thinking I should inventory the stash before I go, just to provide a reality check. I have a LOT of yarn and fiber, if you haven't noticed.
But just in case you think I've come to my senses, I haven't. I'm taking a dyeing class Sunday at WEBS, a beginning weaving class in November, and thinking seriously of weaving a baby blanket for the last baby of this fertile year . Shelley, a weaving friend of mine, has offered to let me use her loom to make the blanket and to help me plan it out and warp the loom. Plus, she was just given an old loom by friends who found it up in the eaves of an old house they were clearing out, and Shelley wants to give it to me! I'm tempted - it's four-harness, quite sturdy, with a weaving width of about 30" - but it needs cleaning up and refurbishing and I know nothing about looms.
Yet.