I took a day off from work today. Great, yes? Well, sort of. I got squashed and poked at the gynecologist's and then I went and picked up my new-to-me car. All very nerve-wracking. All those papers to sign. All those parts to be hurt in the name of good health. At least I've gotten the car properly outfitted already.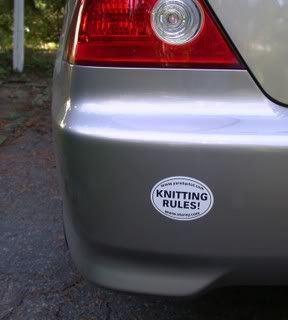 And since most of this happened in Northampton, I went to WEBS, just to calm my harried soul. I had been thinking about what to knit for Jen's baby and I'd decided on the Big Bad Baby Blanket, from Stitch 'n Bitch. That pattern calls for about 1400 yards of sock yarn, held doubled. I have in my stash various sock yarns (not really that much) but nothing that all worked together. I tried, really I did, but nothing worked. So I decided I'd go to WEBS and get me three skeins of Gail Callahan's hand-dyed sock yarn. She's the Kangaroo Dyer - as you may remember, I took a dyeing class with her last weekend.
When I got to WEBS, Gail was there labeling a new batch of sock yarn and, while I drooled at the Macaw colorway, I decided on the Spruce colorway instead - I think holding two strands of this gorgeous yarn together will be perfect for a baby boy whose nursery walls were just painted pale green. Here's the Spruce yarn: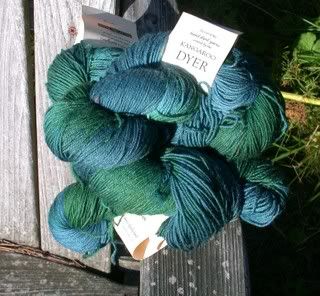 I was so pleased to see Gail again - her class was great! There were five of us in the class and we dyed a rainbow of twelve little skeins of wool with Cushing dyes: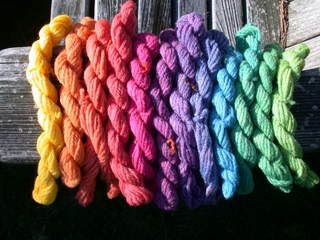 ... and a variety of other yarns with the dyes, as well, just to see how the different yarns would take the dye. Gail dyed the dark skein on the right in this picture, and Liz (I think it was Liz) the light skein in the middle - then they gave them to me!


We're all going to get together in January for a reunion, to show off what we've knit with our skeins and whatever else we've dyed in the interim. I am really looking forward to that!

In other news, I've finished the back of the Minimalist Cardigan:

Here's a close-up of the texture: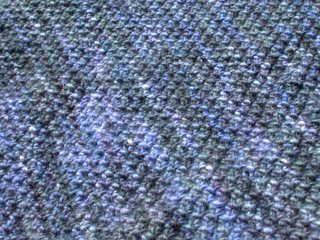 I love how this is turning out, and I'm hoping to finish it in time to wear to Rhinebeck, which is now only three weeks away.

You know, obsession is really fun.