Apparently, I needed some fun. To do what I wanted to do (heh. I just typed "needed to do,' even as I thought 'wanted to do.' Talk about your Freudian slips!).

So late last night - I was already snuggled into bed - I cast on for something new. Yes, there are maybe 15 knitting projects (maybe more) lying around in various states of disrepair; yes, there are piles of roving, top and fleeces waiting to be spun; yes, the rigid heddle is not yet warped, I've only done one more repeat on the 8-harness runner, and that shawl still needs its fringe twisted and beaded, but screw it.

I cast on.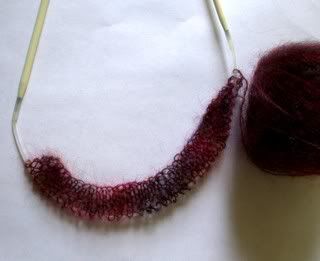 I cannot do this yarn justice with my lousy photography skills, and the breeziness today is not helping to bring natural light to bear on this exceptional yarn. I'm sorry.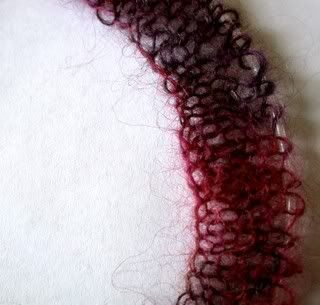 This is kid mohair, with a touch of nylon, dyed by the
Kangaroo Dyer
, Gail Callahan. This is ethereal mist made incarnate, the fragility of life held in one's hands, hope become yarn. Good stuff, in other words. I bought this at
Metaphor Yarns
in Shelburne Falls a month or so ago. I cast on for the Road Not Taken scarf from Lisa Lloyd's new book,
A Fine Fleece
. It's a simple pattern, essentially just yarnovers leading right, then left, but simplicity becomes this yarn.

Somehow, it is doing my soul good to start something new. Knitting, like gardening or spinning or weaving or raising kids, or life itself, I suppose, is the triumph of hope over experience, as somebody notable once said. I cast on, with beautiful yarn colored by someone worth supporting, bought from a new yarn store worth supporting, for a pattern offered by someone worth supporting, and I'm hoping for joy and beauty. I might just find it.