Since casting on for an ethereal scarf made me happy, I thought I'd take more of that medicine.
I decided I'd cast on for another pattern from A Fine Fleece.
I consulted the Table of SABLE. The first yarn I came to that was a suitable weight and yardage for a sweater was four enormous (1560 yards total!) skeins of off-white Chuckanut Bay wool, acquired in December of 2006 at my LYS, Emily's Needlework.
I went looking for it in the stash. My stash is not particularly organized, so I was surprised to find it in the first bin I opened, right there on top. Already wound into balls, interestingly.
I opened A Fine Fleece and went looking for a pattern that takes 1560 yards of aran-weight (18 stitches to four inches) yarn. Now, the pattern I like best, of all the cabled sweater patterns in this book, is Halcyon.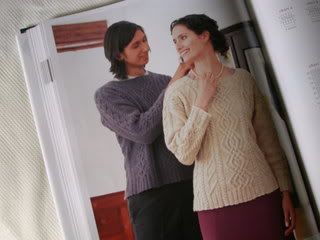 Halcyon calls for 1,550 yards of 18-stitches-to-4-inches yarn, in my size. And I have short arms and a short torso, so I'm willing to take the risk that I'll need more than the pattern calls for.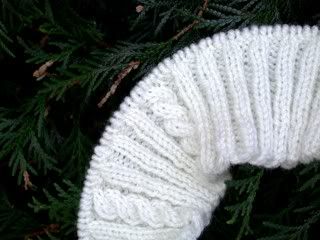 It's fate, I tell you. Fate indeed.